There's always more that comes out during an interview than you can ever get into an article. You try, but sometimes those tangents don't belong in the story you're writing, or you have to take a third of a direct quote when you'd just like to let the person speak in his or her own voice for a paragraph or two.
When I had the opportunity to interview storyteller Jeanne Pelletier about her part in this anthology of traditional Métis stories published as a graphic novel anthology to help bring the stories to a new generation, one of the tangents was why stories of monsters are good for children.

I wanted to come out and ask why she would tell a story about the Whiitigo, or wendigo, as it's sometimes written in English: a cannibalistic spirit that lurks in the darkness to devour the unwary.
But I was unsure whether that would be a rude question, since it was my understanding such stories are more than just entertainments for First Nations and Métis cultures, and have a sacred role to play in the ongoing life of the cultures.  Still, it was my job to ask, as the interviewer.
So without meaning any disrespect, I mentioned the Whiitigo story in the anthology — which was electrifying and frightening even to me as an adult — and said it reminded me of the simple warning I'd heard over and over as a child: Don't talk to strangers.
That's a simple enough rule for children to remember.  But, I offered to Jean, it was enough to make me wary of people I didn't know, and was meant to protect me from potential abuse, harm, or abduction — dangers that would have been overwhelmingly horrifying to a child, as they are to any parent.
She responded about that story in particular — that there are some dangers you can't talk about openly to children, but can still give them warnings to steer children away from them. The Whiitigo story can serve to keep children safe when out on their own at night — go directly home, don't wander and get lost.
That led her to tell a great story behind the story, about the way her own grandmother would time the telling of that tale for the maximum effect — something I was able to keep in the final version of the article.
The following is republished from Prairie Books Now No. 49, Spring 2009.
Lessons learned:
Anthology takes storytelling to a new level
by David Jón Fuller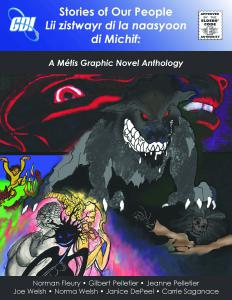 Jeanne Pelletier knows the value – and power – of a good story.
She learned the traditional stories of the Métis from her grandmother in her first language Michif, and now is passing some of them on in Stories of Our People/Lii zistwayr di la naasyoon di Michif: A Métis Graphic Novel Anthology published by the Gabriel Dumont Institute (GDI). Other contributors include storytellers Norman Fleury, Gilbert Pelletier, Joe Welsh, and Norma Welsh, and illustrator Carrie Saganace.
Storytelling is an integral part of Pelletier's life. She has raised eight children, taught traditional dances to at-risk youth, and worked with children in the Catholic school system for 15 years. Every dance has a story, she says.
It was actually a dance that helped get her involved in the anthology, which is edited by Darren Préfontaine. She went in to GDI to talk to them about a picture book she wanted to publish, The Story of the Rabbit Dance. She was asked if she knew how to tell stories.
"Oh yeah," she responded enthusiastically. "I know lots of stories."
In the anthology, Pelletier tells of "How Michif Was Lost" by the three trouble-making cousins; and about how a man rose from his grave and how to protect yourself from the macabre cannibal spirit, Whiitigo (in "Whistle for Protection").
She remembers her grandmother regaling her and her siblings one winter night with a menacing tale of the Whiitigo, flying through the dark, letting out a shrieking whistle as it looked for wayward travellers to devour.
"That story really frightened us when she used to tell it," she recalls. "We lived 13 miles away from the railroad station. And the freight would come in. And I guess she timed it so that when we were halfway home, the whistle would go.
"And oh my God, you should have seen the four of us [run home] and all try to squeeze in through the door!"
Other stories spark questions. After hearing "How Michif Was Lost" – featuring the antics of the tricksters Chi-Jean, Wiisakaychak, and Nanabush – she says many children ask why the Métis language was taken away and want to learn some of the words.
According to Préfontaine, the project took hundreds of hours in recording, transcribing, and adapting the Elders' stories. Original transcripts of interviews with the Elders and the short stories based on them are included.
The book is aimed at young people, he writes in the introduction. By adapting the stories in a contemporary graphic novel format, the aim is to reintroduce the stories to the next generation.
Some stories hold warnings, Pelletier says, of dangers that perhaps children aren't ready to hear, but it is important that they know there is danger out there and that they should heed the Elders' warnings.
"The stories were all learning, teaching lessons that we would use later on without even realizing," she says.
As Préfontaine acknowledges, there was more than enough material for many volumes – and this one could be the first of many.
Pelletier agrees with the notion of future books. "I think it is a good beginning."
Stories of Our People/Lii zistwayr di la naasyoon di Michif: A Métis Graphic Novel Anthology
Norman Fleury, Gilbert Pelletier, Jeanne Pelletier, Joe Welsh, Norma Welsh, and Janice DePeel
illustrated by Carrie Saganace
edited by Darren R. Préfontaine
Gabriel Dumont Institute
$30.00, trade paperback, 162 pages
ISBN: 978-0-920915-86-8
David Jón Fuller is a Winnipeg writer and editor. His writing has appeared in the Winnipeg Free Press, Lögberg-Heimskringla, Uptown Magazine, and The Icelandic Canadian Magazine.