Things have been quiet here at As You Were this week, but that's because I've been working on two interviews to bring you, both with writers of new monster tales.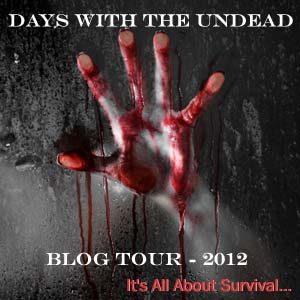 Zombie apocalypse in Ontario
First up is Julianne Snow, author of Days With the Undead, a zombie tale that begins just outside of Toronto, Ont. and spreads from there.  Julianne's been posting the story in instalments on her blog, but Days has also just been published in book form by Sirens Call Publications.  I had the pleasure of interviewing Julianne about it as part of her blog tour for the book, which has been a marathon this month. See what she's had to say to other bloggers by following the links here. And then come back here! Julianne's blog stop here will be posted Mar. 31
As if that weren't enough, Julianne has been kind enough to also write a guest blog post on the subject of how music affects her as a writer, which I'll also post this coming weekend, so be sure to stop back for her well-considered playlist.
A gripping werewolf tale
What's that, you say?  Zombies only whet your desire for more?  Well, that's good, because also in the works is an interview with Rachel Deering, writer and letterer of the new horror comic book Anathema, published by Tiny Behemoth Press, in which a werewolf seeks to save her true love from the forces of darkness. It's a grim, atmospheric tale, and the first issue is out now.
I'll be letting everyone know as soon as the features are posted, so feel free to follow me on Twitter or subscribe/follow this blog for updates.