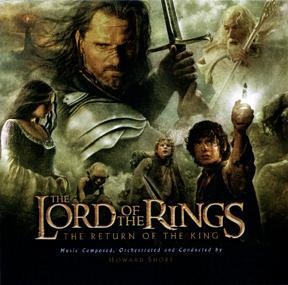 Composer Howard Shore draws from the themes he created for previous films in Peter Jackson's adaptations of The Lord of the Rings for The Return of the King, and this score caps the trilogy off superbly.

He draws from the pleasant pastoral sound of the first movie to show Gollum's early days as the hobbit Smeagol, before twisting it into a darker theme as Gollum kills his friend for the One Ring. It becomes clear from the start the music will echoe the tests the characters' will undergo as Tolkien's story reaches its climax in this instalment.
It's not all gloom and doom, though. The heroic mood of "The White Tower" soars as mountaintop beacons are lit to call Gondor's allies to help defend its embattled capital. And even though the weight of Sauron's forces is felt in the deep notes of "Minas Tirith," the brass section overlays it with a noble melody to evoke the courage of of the soldiers of Gondor.
Even some of the characters are given a voice on this score. Merry (Billy Boyd) sings in "Steward of Gondor" and his humble voice contrasts with the creeping, disquieting strings as Faramir, the Steward's son, charges into a doomed attempt to retake the captured city of Osgiliath.
Later, Aragorn (Viggo Mortenson) sings at his own coronation, and the power of the music lies in its understated elegance.
It's an apt counterpoint to more shrill and discordant pieces, such as those when Sam and Frodo enter Mordor with Gollum as in "Cirith Ungol" and "Shelob's Lair."
Rounding out the score is its "single" — a song played over the closing credits, as did Enya's "May It Be" in The Fellowship of the Ring and Emiliana Torrini "Gollum's Song" in The Two Towers. This time it's Annie Lennox singing "Into the West." Her simple, powerful voice over Shore's orchestrations conveys beautifully the loneliness and consolation of the characters' journeys as some depart for the Undying Lands in the west and others must remain in Middle-earth. It won the Academy Award for Best Song in 2004 — and it certainly deserved it.
The Return of the King
composed by Howard Shore
Reprise / WMG SOundtracks, 2003
Four stars out of five