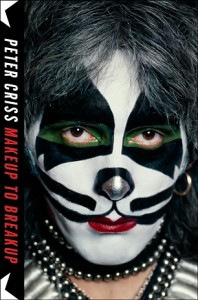 Founding Kiss drummer Peter Criss has been promising to release a tell-all autobiography for decades, and now he's finally done it. (Ironically, it comes a year later than fellow Kiss founder Ace Frehley's No Regrets.) The question is whether what he has to tell illuminates anything about the early years of Kiss or his life after he quit the band in 1980.

He begins with what he describes as one of the lowest points in his life, namely seeing his modest apartment shattered in the 1994 Los Angeles earthquake. Seeing the remnants of his awards and mementos from his time with Kiss strewn about, feeling he had lost connection with anyone important in his life, especially his daughter, he put the barrel of a gun in his mouth and considered suicide.
Fortunately, he chose not to pull the trigger.
To see how he arrived at that point, he describes his poverty-stricken early years growing up in New York City as Peter Criscuolo. He developed a love for drumming early. The joy with which he recounts being able to buy his own set of drums by working for months to pay it off is clear. It's sad to see how later that joy was obscured when he achieved superstardom with Kiss in the 1970s.
While Gene Simmons is usually seen as the orchestrator of  the band, and Paul Stanley the enthusiastic voice, it's interesting to note Criss (a stage name he adopted in one of his early bands) was older than the other members of Kiss. He was already a seasoned pro when he joined the band, having played clubs and learned from legendary drummer Gene Krupa, among others.
There's plenty of inside information on the band's formation, showmanship, writing and recording. The extent to which Kiss planned and developed its stage look and choreography, even before they were famous, is remarkable, and it paid off.
Criss also gives an inside look at seminal Kiss albums. On Alive! by his account, the only parts of the live performance that remain on the final product were his drum track and Paul Stanley's stage banter. Everything else was re-recorded and cleaned up in the studio.
On Destroyer, producer Bob Ezrin demanded a lot of the band in terms of writing and re-recording, pushing them to experiment. Initially, the fans punished the new sound with dismal sales of the album. That was until Criss's ballad, "Beth," which Stanley and Simmons opposed putting on the album, became the band's biggest hit ever, and propelled sales of Destroyer, which has since come to be seen as the band's best album.
On the other hand, if you want dirt, you've got that too. Ever wondered which member of Kiss masturbated the most, who stuffed his pants before heading onstage, and who may have been bisexual (hint: more than one)? Criss gives the reader his account of what he saw and lived through.
Given the frequent sex and cocaine Criss indulged in, his memoir gives a new meaning to "blow-by-blow account."
Tensions grew within the band, with Criss and Frehley squaring off against Simmons and Stanley. Criss, always insecure about his lack of education, resented Stanley's and Simmons' passive-aggressive "game" of holding impromptu spelling bees to show him up. They also regularly vetoed songs he'd written or changed them after he throught the recording was finished, especially after he'd scored the hit with "Beth."
On the other hand, Frehley and Criss took their pranks too far when they dressed up in German SS uniforms and banged on Simmons' hotel room door, shouting they were there to "throw his Jewish ass in the ovens." Simmons and Stanley, both Jewish, were unlikely to find this funny. But as an outraged Stanley castigated them later, he told them Simmons' own grandmother had was a beautician in a Nazi concentration camp, and Simmons' own mother was forced to watch when his grandmother was sent into the gas chamber. (Criss says he didn't know that part of Simmons' family history before the tasteless prank.)
Aside from stories like this, it becomes hard to accept Criss's account at face value. For example, he writes about deeply loving his first two wives, all the while chronicling his repeated adventures with groupies. There's not even a modicum of perspective from Criss writing today looking back; and when he writes about proposing to the woman who would become his third wife, he writes he wanted to do it because "I just love being married."  (Really? As long as you can fool around on the side?  Um, that's not what's great about marriage.)
Which is not to say that things were easy in (or out) of Kiss. Simmons and Stanley strictly avoided drugs and alcohol, unlike Criss and Frehley.  So when it came time to govern the band's direction, it became more and more Simmons' voice calling the shots. Opposing what he felt was the lack of respect for his contributions, Criss eventually left, barely participating in the last two albums his name was on (Dynasty in 1979 and Unmasked in 1980).
Sadly, he suffered a complete breakdown due to his cocaine addiction and, perhaps, too many years in the bubble of superstardom, and received treatment in a mental institution. His many attempts to forge a solo career failed, and he was back to touring clubs by the mid-1990s when Simmons and Stanley came to him with the idea of reuniting the band, which put him back in the public eye again.
Sadly, when he and Frehley rejoined a full-on reunited Kiss-in-makeup-again tour, it was not as equal band members, but as employees. So when the subsequent touring and merchandise took on a scope unheard of even in their 1970s heyday, it was only Simmons and Stanley laughing all the way to the bank, something Criss is understandably bitter about.
It's hard to review an autobiography without presuming to judge the person's life along with the book — but Criss, despite perhaps a lack of perspective, is an engaging and funny narrator, ready to point out his own failings such as a quick temper and inability to control his addiction. (I honestly don't know how I would have dealt with becoming a member of one of the biggest bands in the world during the 1970s.)
But still, for all that he's been promising this book since at least the 1980s, more thought and less mere detail would have been more rewarding.
Makeup to Breakup: My Life in and out of Kiss
by Peter Criss with Larry Sloman
Scribner
344 pp, $26