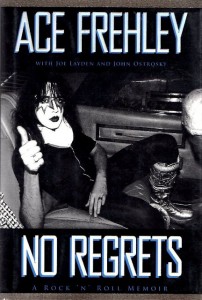 As the founding guitarist for KISS, you'd expect Ace Frehley to have some pretty good war stories — if he can remember them. A self-confessed party animal, Frehley has been open about his addicitions to alcohol, cocaine, and painkillers.  But as he shows in No Regrets, his memory for a lot of things is just fine.
Frehley and original KISS drummer Peter Criss have been largely written out of the band's official history over the years — at least, to hear Gene Simmons and Paul Stanley tell it. So it's refreshing to hear the story of the band from Frehley's point of view.

Frehley (real name Paul) describes being the black sheep if the family among academically gifted siblings. He seems to have made an early career of dropping out of as many high schools as possible. In fact, he only graduated because his girlfriend convinced him he was so close to a diploma he might as well go back and complete his courses for it.
As for his stage name, "Ace," it was a nickname given to him for his reputation as a chick magnet who set up his friends with girls.
Clearly a music fan from an early age, Frehley describes schmoozing his way backstage for concerts by acts such as the Grateful Dead, sometimes even getting to help set up the stage and equipment for them.
He peels back the spaced-out mystique of his stage persona, explaining, for instance, why, at his audition for the band he wore mismatched sneakers. It's become part of his oddball reputation; but  he admits he was just in a hurry and grabbed two random shoes by accident.
Not that anything else went smoothly during his early years in KISS. (The iconic logo, by the way, was designed by Frehley.) The band struggled to achieve critical and commercial success, despite having a live show so dynamic they became known as the opening band no headliner wanted.
They released their first three albums — KISS, Hotter Than Hell, and Dressed to Kill — on Neil Bogart's newly-formed Casablanca label, within the space of 18 months. They were still more successful as a live band than recording artists, and when the money began to run out, Bogart convinced them to release a live album.
The move was partly to save money — it being cheaper to produce a live album than write, record, and produce a new record — but also to attempt to capitalize on the band's reputation as a live act. "But you have to remember," writes Frehley, "that in 1975 live albums weren't exactly cash cows. A number of bands had tried and failed."
But producer Eddie Kramer taped multiple shows, to catch the band at its best, and hauled them into the studio to fix all the mistakes, rerecord instruments and vocals, and present Alive! as an embodiment of a live KISS performance.
Whether it was an accurate document or not, Alive! went gold, platinum and then double platinum, spawning the band's first Top 20 single (the live version of "Rock and Roll All Nite") and paving the way for later successful live albums from Peter Frampton and Cheap Trick.
Despite success for the band that only continued to grow, Frehley writes of his growing disenchantment with it. He became frustrated that they were so successful at theatrics that they became known for only that, not their music. He wanted to be taken more seriously as a guitarist but felt his "Spaceman" persona held him back.
Surprisingly, it was a near-death experience onstage that helped change that.
During a concert in Florida, Frehley was descending a staircase holding his guitar. Because it was difficult to do wearing the trademark KISS platform boots, he had to hold onto the railing. "On this particular night my guitar wasn't properly grounded, so when I touched the metal railing on the staircase I got hit with a big dose of electricity… I got thrown backward onto the platform above the amps." Unconscious, he was brought backstage and revived.
He finished the show, but later, at Paul Stanley's urging, he wrote a song about the experience, for which he sang lead vocals for the first time.  That song, "Shock Me," was recorded for Love Gun, and was the first of many that saw Frehley flexing his vocal muscle and writing and performing more of his own songs.
Like Criss, he felt Simmons and Stanley were more interested in marketing and money than music. Despite making millions of dollars with KISS, Frehley was unhappy.
When he later won more acclaim than the other band members when each released solo albums simultaneously, he took it as a sign he could continue without the band. Criss left in 1980; Frehley bowed out in 1982.
It wasn't smooth sailing in the early '80s, however; Frehley suffered a nearly-fatal car crash while driving under the influence of drugs, and battled addictions as much as resentment that he was only known as the former guitarist for KISS.
It was especially sweet, then, when his solo career took off with Frehley's Coment starting in 1987, for which he toured and recorded three albums (Frehley's Comet, Live + 1, and Second Sighting), before recording a further solo album under his own name (Trouble Walkin').
The period after 1990 is largely glossed over, except to note that Simmons and Stanley began to increasingly downplay any musical contributions he had made as a member of KISS and disparaging his use of drugs and alcohol (which they rarely indulged in).
Frehley's candour in discussing his own addictions, like Criss's in Makeup to Breakup, is in stark contrast to Simmons', who seems to draw no parallels to cocaine or alcohol and sex in his 2002 autobiography KISS and Make-Up.
Frehley sums up the irony: "I believe Gene is a sex addict, in much the same way I'm an alcoholic."
The latter part of Frehley's account meanders, though, as he writes of rejoining KISS as an employee for the highly profitable (for Simmons and Stanley) reunion tours from 1996 to 2000.  He ends his book on a high note, as he describes embracing sobriety and acceptance for the ups and downs of his life.
He tempers his Zen with a good dose of bluntness, though.  "At this point in my life, I just need to let things go. Holding on to resentments, can really make you ill, so I'll just leave the dirty words to my attorneys. I can sum up the KISS situation in just five simple words: 'What goes around, comes around.' No matter what happens, I'll be just fine.
"That being said, in reality, I think they're just a bunch of dirty rotten whores."
More fun to read than Criss's account, and definitely more self-aware than Simmons', Frehley's No Regrets is one of the most readable accounts of the band you'll find. (That is,until Stanley writes his.)
No Regrets: A Rock 'n' Roll Memoir
By Ace Frehley with Joe Layden and John Ostrosky
Gallery Books / Simon & Schuster, 2011
305 pp, $29.99
To see a rare instance of the laconic Ace Frehley upstaging the other members of KISS in an interview, see this clip from The Tom Snyder show in 1979.