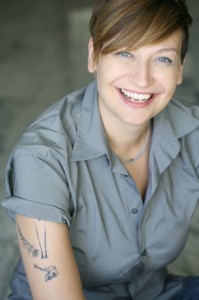 Indie author Allison Moon has been making a name for herself with her feminist take on werewolves, first in Lunatic Fringe (2011). That same year, she was named a Lambda Literary Emerging LGBT Authors Fellow and was a runner up for the Victoria Hudson Emerging Author Award. This year, she continues with her second book in the Tales of the Pack series, Hungry Ghost, available now.

We'll have an interview with Allison later this week about Hungry Ghost, but in the meantime she was kind enough to write a guest post for As You Were on the music that inspires her as she writes her werewolf tales. Read on, and give it a howl…
Living in California, I rely on music to put me in the grey and grim mood that is such an essential part of the Tales of the Pack books.  No matter how sunny it is (or how blocked I'm feeling), music is the quick fix.
Not just mood though, my music reflects the earthiness of the books. So, much of the music features folk instruments and acoustic sounds.
The bulk of my Tales of the Pack playlist is Amina and Sigur Rós. Too many lyrics can be distracting, especially when wrestling with some tough scenes– Sigur Rós uses nonsense language and Amina rarely has any lyrics at all. Amina is an all-female quartet that uses both folk instruments (including my favorite- the musical saw) and modern loops and synthesizers.  In my grandest dreams, Amina scores the Tales of the Pack film adaptations! Sigur Rós is a bit more atonal and eerie. I think the fact that both groups are Icelandic says something about the mood I like to evoke when I'm writing: rich with natural beauty, with a little spark of magic.
Here are some other go-to songs to get me in the werewolf-writing kind of mood:
HOPE THERE'S SOMEONE / Antony and the Johnsons
One of the saddest songs ever written. Captures that desolation of first heartbreak so well.
FRACTURED / Scott Matthews
I listened to this song on a loop when writing Lunatic Fringe's climax.  It is so desperate, so fierce, it perfectly captures the sense of helplessness when watching a loved one suffer.
SONG TO THE SIREN / This Mortal Coil/John Frusciante
Such a remarkable song. Romantic, eerie, and desperate, it captures the unslakeable longing of needing love.  Deep longing that leads to self-destruction. I have a sneaking suspicion I'll be using this song for inspiration in every one of my future books.
VIRGIN STATE OF MIND / K's Choice
I listen to this song whenever I'm writing a "deep in the woods" scene.
MOON / SOMEDAY WE'LL BE FOUND / Sia
I feel like Sia is the patron saint of Tales of the Pack: a little bit queer, a little bit eerie, with pipes that can howl, belt, or coo.
SOMEWHERE A CLOCK IS TICKING  / Snow Patrol
This is a great song for getting me in the mood to write some fights. It's bombastic and cinematic in all the right ways.  It makes me want to tear the throats out of some bad guys.
RADIOACTIVE / Imagine Dragons
Same with this one. Makes me bang my bad-ass drum. Gets me in the right headspace for the Pack to bust some heads.
IMMIGRANT SONG / Karen O, Trent Reznor & Atticus Ross
Is there anything more bad-ass than a lady wailing to one of Led Zepplin's hardest rocking songs? Nope. There isn't.
And no werewolf-writing would be complete without:
WOLF LIKE ME / TV on the Radio
I think this song will go down in history as the best werewolf anthem of all time.  I worked a couple of phrases into the text of Lunatic Fringe.  Whenever I need to pump up the girls to get them to run naked under the full moon, "Wolf Like Me" is the song to do it.

Thanks again to Allison for writing a guest post here! Come back Wednesday for a full interview with her on her latest book, Hungry Ghost. For more information on Tales of the Pack, visit her official website.