I really wanted to love Red Moon. I asked the Books editor at the Free Press months in advance whether I could review it, and was thrilled when the ARC showed up. However, as much as I enjoyed Benjamin Percy's writing and his narrative voice, there were elements of the story and the background world of his werewolves that just didn't hang together enough, in my opinion.
This was touted as a hot book long before it hit shelves earlier this month — if you've read it and disagree, I'd love to hear about in the comments.
Evocative tale of werewolf 'terrorists' fails to deliver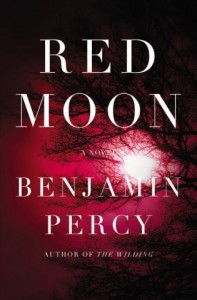 THE werewolf has often embodied our fears of what is wild in nature or within ourselves. In Benjamin Percy's Red Moon, the werewolf is cast as terrorist in what could be a provocative analogy, but it ultimately fails to deliver.

Percy, a 34-year-old American, already has several books of literary fiction under his belt, including the novel The Wilding and short-story collections Refresh, Refresh and The Language of Elk. His writing has earned him the Whiting Writers Award and two Pushcart Prizes.
His latest novel, dipping into urban fantasy, opens with two harrowing experiences. Teenaged Patrick, flying from San Francisco to go live with his mother, witnesses a massacre when a werewolf kills every other passenger on the plane.
Patrick survives by hiding beneath their corpses. It later turns out to be one of several targeted attacks, with obvious parallels to the 9/11 hijackings.
Claire, also a teen — and a werewolf like her parents — barely escapes when government agents storm her house and kill her family.
Percy's prose is rich and precise. Haunted by survivor's guilt and filled with conflicting desires, Patrick "stares into the fire and feels something combust inside him, as if his chest were a wet bale of straw with smoke billowing from it. Soon he will be ablaze."
But in terms of world-building, there are problems that remain fuzzy.
Lycans are a tiny percentage of humanity but they band together to found a Lupine Republic in 1948, sandwiched between Finland and Russia. It's a fascinating concept, but it doesn't hold up.
The republic's main resource is uranium, making it the site of a prolonged U.S. occupation at the outset of the novel, which sparks an insurgency. But if uranium is so plentiful there, why wouldn't the Soviet Union have annexed the republic during the Cold War? Why would Russia tolerate U.S. interference?
As stand-ins for terrorists, Percy's werewolves aren't a particularly nuanced metaphor. Rather than the full-wolf shape-shifters of current paranormal fiction (think David Wellington, Kelley Armstrong or Rhiannon Held), they are inarticulate, bipedal monsters a la Hollywood wolf-men. It's a representation that predates shirtless eye-candy werewolves in TV shows such as Lost Girl and True Blood.
The Lupine Republic insurgents remain anonymous attackers. And the reasons for the airplane massacres, beyond a discontent with the American occupation, and restrictions imposed on lycans living in the U.S., are never explored.
In the second half of the novel, the story leaps ahead with major changes. Action shifts to the Lycan Republic, and a lycan revolution in the U.S. is presented as a fait accompli. And, it seems, the worse things get, the more often the characters find themselves delivered by astounding luck.
Claire tails a man linked to her father's activist past and breaks into his house without having to pick so much as a lock, and reads his email without having to muster a password. Patrick joins the army and ships off to the republic; when caught in an ambush, not only is he the sole survivor — again — but he is also rescued by an old woman who nurses him back to health.
Later, in a firefight he's grazed by a bullet. "He won't be that lucky again," Percy tells us. Except by this point, we expect Patrick to survive by luck — that's all he does.
Percy keeps ethical and moral questions, such as whether a vaccine to cure "lobos" should be developed, in the background. That changes towards the end of the novel, but by then it's too late to have much resonance.
Overall, Red Moon is a brisk read with evocative language and characters you want to root for. But the fictional world's lack of coherence and the increasing sense of deus ex machina spoil the fun.
Red Moon
By Benjamin Percy
Grand Central
530 pages, $29
Republished from the Winnipeg Free Press print edition May 11, 2013 J8