It's something I should have announced here earlier, but I am thrilled to be part of the ChiSeries Winnipeg readings on October 9, along with Susan Rocan and Rhiannon Paille. Organized by Samantha Beiko and Chadwick Ginther under the auspices of Chiaroscuro Reading Series, the ChiSeries readings bring speculative fiction authors together to read from their latest works.

This is the second one in Winnipeg; the inaugural event this past summer featured David Annandale, Andrew Davidson, and Sierra Dean. So I'm honoured to  be a part of it!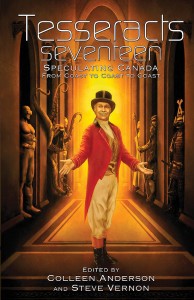 It also dovetails nicely with the release of Tesseracts 17, and even though the anthology won't be officially released until later in October, Brian Hades at EDGE Publications has been more than generous in working to make copies available at the event in Winnipeg.  I'll be reading from my story in it — my first professional sale, no less! — a Canadian werewolf tale called "Sin a Squay." As the only Manitoban in Tesseracts this year, I'm pumped to be able to give it a "pre-launch" in my home town.
The second ChiSeries Winnipeg readings will be held at McNally Robinson on October 9 starting at 7:30 p.m. Details of the event can be found here. So if you're in town and want to warm yourself in a bookstore and listen to some tales of the weird and wonderful, come on down! I'm especially pleased that I get to read my work on a Werewolf Wednesday…
(If you're in Ottawa on Oct. 8 or Toronto or Vancouver on Oct. 9, you're also in luck — check out the ChiSeries readings there.)