Of course, I am grateful to local ChiSeries organizers Samantha Beiko and Chadwick Ginther for inviting me to read last night — but also thanks to a cozy audience I can make a claim I doubt I will get a chance to again.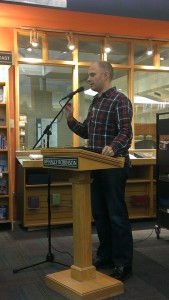 My fellow readers Rhiannon Paille and Susan Rocan read from their published works — Rhiannon from a dystopian story and Susan from her historical fantasy novel — but I have very few of these in book form, so I was mainly there to wave the flag for the first Winnipeg appearance of Tesseracts 17 and read from my story in it, "Sin a Squay." No, it's not even technically available yet! But thanks to Brian Hades at EDGE Publications and John Toews at McNally Robinson, there were copies on hand for ChiSeries Winnipeg well ahead of the Oct. 23 release date.

Our appreciative audience bought them all.*
Plus: it was a blast to read for a live audience for the first time in ages, and great to see so many people out to support the local speculative fiction community. Thanks to everyone who came!
*Some context: my friends and family were well-represented in those attending. Also, there were only six copies of the book in the store! So, percentages are my friend in this boast. Total sellout, that's me!
UPDATE: Check out this book trailer for Tesseracts 17!