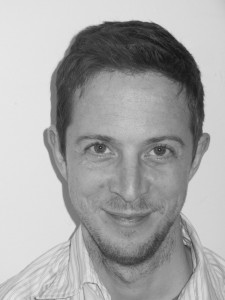 Today we have a guest post from author Toby Stone, whose debut novel, Aimee and the Bear, has been praised as "as unique and astonishing as it is chilling" and "enchanting."
In the novel, Aimee is an eight-year-old girl who escapes her mother's cruelty by fleeing to the "Other Place." There, her teddy bear becomes a real bear and children get away from troubles at home by attending the Night School. But when a witch awakens, the Other Place is endangered, and so is Aimee's younger brother.

Toby graciously agreed to share his writing playlist and how music affects his writing. If you can access Spotify, you can enjoy it yourself as you read.  Take it away, Toby!
*  *  *
I tend to get drunk and dance like a hyperactive zombie and write, of an evening. As the (thankfully unseen) horror of this goes on, I listen to a Spotify playlist (under tbstone, the playlist called "mine," not "greysanatomy," please ignore this, it is my wife's… honestly).
The songs have various effects on me. My mishearing of the first on the list, "Boys of Summer" by Don Henley, suggested a book idea. I was fourteen and loved the idea of a book called The Poisoned Summer involving dead-head stickers, Cadillacs, a serial killer, and never looking back.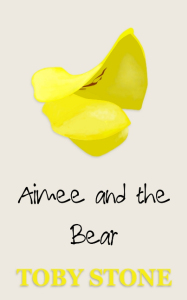 Others push a theme of a novel, helping my drink-addled mind to create the text's ambiance. For instance, my current novel has a panicked pace with a protagonist forced into an impinging reality. "Speed Demon" (remixed by Nero) fuels this, along with the words "Heading for the border." The electronic bass seems to key in with how my neurons fire, and I find dance-orientated songs such as Burns' "Lies" (remixed by Otto Knows) and Cazzette's "Beam Me Up" help push a series of images through my mind, almost as if the beats are the motions of a puppeteer, jerking the visuals through my consciousness. The hook line (for instance Burn's "You've been cheating and telling me lies/You've been creeping while I'm sleeping at night" fire the original, neurological shot — in this case of a cancerous, silhoutted evil that moves through a hospital, and the beat then maintains its presence in my head).
The final influence has been lyrics which have been mangled by my mind, and end up in the text of my novels. For instance, Nicki Minaj's "my face says yes, your face says no" was recast into Aimee and the Bear, my debut novel through Hic Dragones. Robbie Williams' "my mind was mine to lose" ("No Regrets") is somewhere in what I hope to be my second published novel, British Broadcasting Spiders. They are never quite the same (as far as I recall) as the original lyrics, but end up mactated and syntactically dislocated, but, while writing, the flood-gates are open to the extent that I'm sure this happens, on occasion, without me realizing.
*  *  *
Aimee and the Bear
By Toby Stone
Hic Dragones, 2013
Available in paperback and ebook
For more information, visit Toby's blog.