This review of Rock or Bust originally appeared in the Winnipeg Free Press, Dec. 4, 2014.
AC/DC: Rock or Bust (Columbia/Sony)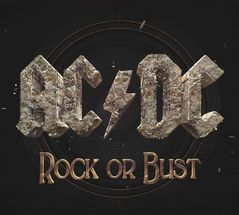 AC/DC may have a few problems (drummer Phil Rudd faces drug- and assault-related charges, and founding rhythm guitarist Malcolm Young has retired owing to dementia), but you'd never know it from Rock or Bust.

Young shares writing credits on every song with brother and lead guitarist Angus. The album is full of big, chunky riffs, blistering lead guitar and foot-stomping swagger.
The title track boasts razor-sharp chords and the brazen wail of Angus Young's guitar. It's a perfect example of AC/DC's spare, loud sound. "Rock the Blues Away" is the kind of catchy, riff-heavy song AC/DC has been banging out since "It's a Long Way to the Top (If You Wanna Rock 'N' Roll)" and "You Shook Me All Night Long." Yep. I really said that.
On "Miss Adventure," it's Cliff Williams' boogie-ing bass work that gets stuck in your head, and the sneering backing vocals are classic AC/DC.
Some tracks aren't as memorable: "Dogs of War" plods along without much spark, and album closer "Emission Control" is anemic compared to "Sweet Candy," which they should have finished with.
It's the band's best studio album in many years –even at a lengthy 11 songs, Rock Or Bust is over all too soon. ****1/2
DOWNLOAD THIS: "Got Some Rock & Roll Thunder," "Rock or Bust"
— Reviewed by David Jón Fuller
P.S. From the vantage point of another two months of listening to this album, I'd add two things: "Dogs of War" really grew on me and I'd say it's one of the stronger tracks on the album. And as far as "download this" advice goes,  "Miss Adventure" and "Play Ball" should go on that list. For the purposes of the print review, I was supposed to keep it to two recommendations, not a half-dozen. But the fact is I haven't loved an AC/DC studio album this much in years, and listening to Rock or Bust reminded me of when I first got Who Made Who for Christmas in 1986, turning me into a fan for life.
Here's the title track, if you haven't heard it yet: