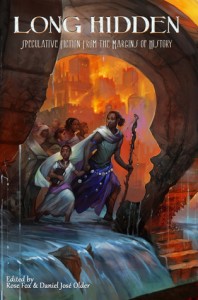 Woot! Always an honour to be nominated, as they say, and Long Hidden has already been nominated for a prestigious award (Sofia Samatar's "Ogres of East Africa" was nominated for a Locus Award, and so was Long Hidden) — but this feels especially "big": Long Hidden has made the shortlist for the World Fantasy Award.
Full props to publishers Crossed Genres and editors Rose Fox and Daniel José Older for making the anthology happen, and to all the artists and authors who contributed. Yes, I'm biased! So what. If there was any anthology in English that strove to put the "world" in world fantasy in 2014, Long Hidden was it.

(It's not an unproblematic award, at least in iconography, either — Daniel spearheaded a petition to replace the image of H.P. Lovecraft on the physical award to that of Octavia Butler. I added my name to the thousands of others on that petition. Lovecraft, for all his contributions to the horror genre, also loaded his writing with racism. You can read more about the campaign to change the award statuette here.)
By the way, the sequel to Long Hidden, Hidden Youth: Speculative Fiction From the Margins of History, is still open to submissions. The editors are Mikki Kendall and Chesya Burke. The deadline is July 31.
The full list of World Fantasy Award nominees was announced at Tor.com yesterday, but here they are:
Novel:
The Goblin Emperor, Katherine Addison (Tor)
City of Stairs, Robert Jackson Bennett (Broadway; Jo Fletcher)
The Bone Clocks, David Mitchell (Random House; Sceptre)
Area X: The Southern Reach Trilogy, Jeff VanderMeer (Farrar, Straus & Giroux)
My Real Children, Jo Walton (Tor; Corsair)
Novella:
We Are All Completely Fine, Daryl Gregory (Tachyon)
"Where the Trains Turn", Pasi Ilmari Jääskeläinen (Tor.com 11/19/14)
"Hollywood North", Michael Libling (F&SF 11-12/14)
"The Mothers of Voorhisville", Mary Rickert (Tor.com 4/30/14)
"Grand Jeté (The Great Leap)", Rachel Swirsky (Subterranean Summer '14)
Short Fiction:
"I Can See Right Through You", Kelly Link, (McSweeney's 48)
Do You Like to Look at Monsters?, Scott Nicolay (Fedogan & Bremer)
"Death's Door Café", Kaaron Warren (Shadows & Tall Trees 2014)
"The Devil in America", Kai Ashante Wilson (Tor.com, 4/2/14)
"The Fisher Queen", Alyssa Wong (F&SF 5-6/14)
Anthology:
Fearful Symmetries, Ellen Datlow, ed. (ChiZine)
Long Hidden: Speculative Fiction from the Margins of History, Rose Fox & Daniel José Older, eds. (Crossed Genres)
Shadows & Tall Trees 2014, Michael Kelly, ed. (Undertow)
Monstrous Affections, Kelly Link & Gavin J. Grant, ed. (Candlewick)
Rogues, George R.R. Martin & Gardner Dozois, eds. (Bantam; Titan)
Collection:
Mercy and Other Stories, Rebecca Lloyd (Tartarus)
Gifts for the One Who Comes After, Helen Marshall (ChiZine)
They Do the Same Things Different There, Robert Shearman (ChiZine)
The Bitterwood Bible and Other Recountings, Angela Slatter (Tartarus)
Death at the Blue Elephant, Janeen Webb (Ticonderoga)
Artist:
Samuel Araya
Galen Dara
Jeffrey Alan Love
Erik Mohr
John Picacio
Special Award – Professional:
John Joseph Adams, for editing anthologies and Nightmare and Fantasy magazines
Jeanne Cavelos, for Odyssey writing workshops
Sandra Kasturi & Brett Alexander Savory, for ChiZine Publications
Gordon Van Gelder, for F&SF
Jerad Walters, for Centipede Press
Special Award – Nonprofessional:
Scott H. Andrews, for Beneath Ceaseless Skies
Matt Cardin, for Born to Fear: Interviews with Thomas Ligotti (Subterranean)
Stefan Fergus, for Civilian Reader (civilianreader.wordpress.com)
Ray B. Russell & Rosalie Parker, for Tartarus Press
Patrick Swenson, for Fairwood Press
The World Fantasy Awards will be announced at the World Fantasy Convention, Nov. 5-8.  Congrats to all the nominees. If I can channel Fezzik from The Princess Bride: "I hope we win!"