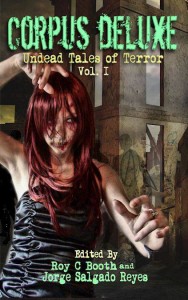 If you're looking for a jiu-jitsu-infused vampire tale, you're in luck: my martial arts urban fantasy story "Night Class" is now available in the new anthology Corpus Deluxe: Undead Tales of Terror, Vol. 1.
"Night Class" is inspired more than a little bit by my years in the dojo, and was first published in the now-defunct Alien Skin Magazine.  I'm very happy to have found it a new home in Corpus Deluxe, edited by Roy C. Booth and Jorge Salgado Reyes, published by Indie Authors Press.

I understand there is a paperback edition coming, but the anthology is already available as an ebook. Click here for more details.
An excerpt from "Night Class":
Our dojo is on Sherbrook. That's enough to make most people question joining. Two streets over is Furby, murder central, in Winnipeg, murder capital of Canada, per capita. But once you're used to the neighbourhood, which, after all, is just east of tree-hugging Wolseley, where people won't even let the city spray for mosquitoes, it's not so bad. Besides, people don't kill strangers on Furby, just their friends.

I'd been going to night classes for years before I really got to know our sensei. He's actually very friendly — charming in a big, Polish kind of way. He has a strange sense of humour — like one class when the toenail on my big toe accidentally got ripped off, he said, "An object lesson in foot hygiene. Cut your nails shorter!" But behind those icy blue eyes the smile doesn't always reach, and you know the other side of him, the one that puts excruciating wristlocks on white-belts when they say, "That wouldn't really work," isn't buried deep. Yeah, I've heard about Stockholm syndrome, you get to love your oppressor, but it's kind of different when you choose to be here.
*   *  *
Corpus Deluxe: Undead Tales of Terror, Vol. 1 is available here.