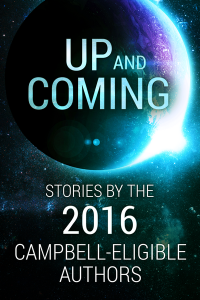 So, I am a bit late on writing a this-is-some-stuff-I-wrote-that's-eligible-for-awards post, but that was on purpose: I was waiting for Up And Coming: Works by the 2016 Campbell-Eligible Authors to be available.  And it is, now. For FREE. You can download it until March 31.
By the way, if you just want to read a huge collection of short stories and don't care about awards, this is the anthology for you.  There are more than 200 stories in it, written by writers who are in either their first or second year of eligibility for Campbell Award for Best New Writer, which is typically awarded at the same time as the Hugo Awards, though it's not technically one  of the Hugo Awards. Up and Coming is one million words of prose in a single book. That's like 10 doorstopper-length fantasy or sci-fi epics right there. And it's free, to make it easier for potential Campbell voters track down work by eligible writers.

I had submitted work to the 2015 edition, but that one was scuppered; editor David M. Blake explains the reasons for that here. If you don't care about the intricacies of Hugo Award voting practices and the slate voting that derailed things in 2015, then you can skip this. There went my chance to be included in the antho in my first year of eligibility for the Campbell.
But for 2016, editors S.L. Huang and Kurt Hunt have taken up the task of assembling and in short order publishing this massive collection. (Next year, since some of the Hugo voting rules could be different, issues that affected the 2015 antho may not apply and David M. Blake may assemble one for 2017.)
Anyway, if you just want to read work by a lot of great writers, you can skip the rest of this post and click here.
The rest of this post is going to be short, anyway.
I'm also eligible this year for the Aurora Award, for two stories: "In Open Air," my generation-ship sci-fi story that first appeared in Accessing the Future; and "Caged," my werewolf story in Guns and Romances. If you care to vote for the Auroras, you can read both those stories in Up and Coming. More information on the Auroras here.
I am also eligible for the new Sunburst Award for Short Fiction, and my 1930s vampire story "The Harsh Light of Morning," originally published in Tesseracts Eighteen: Wrestling With Gods, is eligible, along with "In Open Air" and "Caged." More information on the Sunburst Awards here.
So: if you are so inclined to read free stories, there you go! And if you are inclined to vote for speculative fiction awards, that's awesome too.