Not too long ago I got the chance to interview Canadian author Harold Johnson about his new sci-fi novel Corvus. I loved the way it handled how different things might be by the end of the century, the way he portrayed different aspects of Canadian society — the haves, the have-nots, the differences between how Aboriginal and non-Aboriginal communities might be in the future, and, of course, people's use of and relationship with technology. 
*  *  *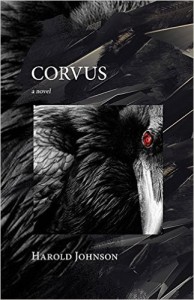 Harold Johnson's fifth novel Corvus is set in an imagined late twenty-first century, in which climate change and war have dramatically changed Canada.
The idea for Corvus came when Johnson heard David Suzuki, Al Gore, and James Lovelock discuss climate change. Gore asserted climate change could be fixed. Lovelock said it was too late; climate change is the new reality. He advised Suzuki to move north and build nuclear reactors for electricity.

"Climate change is not global warming. It is more severe weather, bigger storms, more floods, longer droughts. Wars are predicted, and seeing the political climate in the USA, I imagined the wars occurring there."
Johnson has served in the navy, and has worked as a trapper and fisherman, a miner, a lumberjack, a heavy equipment operator and mechanic, a firefighter, and a tree planter. He now works as a Crown prosecutor in La Ronge, the town in which Corvus is set.
But the La Ronge in Corvus is no longer a small town. It is a huge city, transformed by the collapse of North American agriculture, refugees from the south, and two intra-American wars. Two main characters, Lenore and George, are up-and-coming prosecutors, aiming for a shot at a better life, such as those offered in exclusive communities floating high above the ground. A third, Richard, just wants to live an ethical life on the margins, but finds poorer communities off the grid have their own hierarchies.
" I took the idea that people will move north and increased the population of a small town in northern Saskatchewan to a megacity, added some technology, and simply wrote those things that are already predicted," says Johnson.
"Climate change will be a new era in human history," says Johnson, who over a lifetime of working outside, became a skilled weather forecaster but no longer trusts the signs like he used to. "Like the weather, we cannot accurately predict what is coming. I do believe that we have to get ready for it."
Lenore and Richard's wartime experiences still haunt them. George seeks an understanding of the natural world without knowing how — one of the ways he tries is to buy an organic recreational vehicle. His ORV is a lab-grown raven construct, large enough for a person to wear and pilot via mental commands. Soaring through the air — though not high enough to reach one of the floating cities — leads George to question his entire worldview.
The book takes its name from the Latin word for "raven," and each character encounters ravens, or, perhaps even Raven, a central character. Some realize the old natural cycles are breaking down or changing. Sundogs no longer give an accurate indication of coming weather, nor does the behaviour of bees (few of which are left).
"Raven is my friend. I have heard him speak and I wondered what he was trying to say," says Johnson.
Raven, it seems, has much to say.
"Raven is a magical being that has been around for a long time. I needed someone to speak for nature, and Raven volunteered," says Johnson.
"We have to be careful of him, though; he is a trickster."
Corvus
by Harold Johnson
Thistledown Press
ISBN: 978-1-77187-051-1
$19.95
Originally published in Prairie Books Now. More information on Harold Johons and Corvus here.