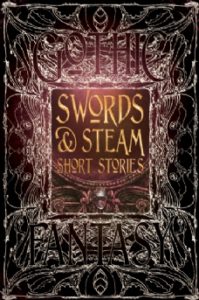 Weeelllll it's been a while since I posted here but I guarantee you it's been a busy summer. Summer? Fall? Fall too. Anyway, one of the pieces of good news I have is that my short story "Sisters" was accepted into Swords & Steam, the latest in Flame Tree Publishing's Gothic Fantasy series.
Like the other tomes in the series (yes, tomes), Swords & Steam is a big, beautiful hardcover book.  I'm in good company in this one, and can't wait to read the rest of the anthology.

As for "Sisters," I'm thrilled this story found a home, since I took a few weeks to overhaul it and put some polish on before sending it in to Flame Tree for Swords & Steam.  You didn't know you wanted a tale of two women hunting trolls in post-Black Plague northern Europe, but you got it. (And I may just have a sequel to that story in the works.)
Anyway, contributors to Swords & Steam include S.T. Joshi
Contributions by Andrew Bourelle, Beth Cato, Amanda C. Davis, Daniel J. Davis, Jennifer Dornan-Fish, Spencer Ellsworth, Kelly A. Harmon, Liam Hogan, B.C. Matthews, Angus McIntyre, Dan Micklethwaite, Victoria Sandbrook, Zach Shephard, Amy Sisson, and Brian Trent. And me! And at 480 pages, with 25 illustrations, this is a beautiful book.
Head on over to Flame Tree Publishing (link here) for more details!