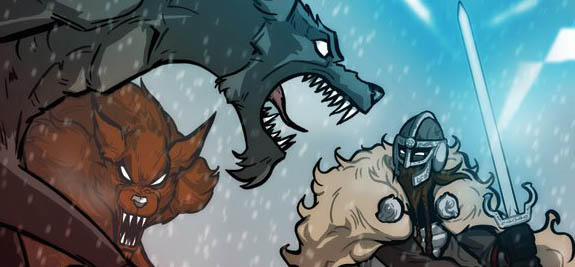 I had the opportunity to interview comic book writer and artist Grant Gould a few years ago about his labour of love, The Wolves of Odin.  Since then, he's continued it as a webcomic and worked on a sequel volume, Marauders of Midgard.  I thought I'd post this 2009 interview ahead of Grant's upcoming appearance at C2E2, the Chicago Comic and Entertainment Expo.
Grant will be in Artist Alley at table H9, where he will have his artwork for sale. He'll also be doing custom sketches during the show, so if you're interested, visit him at his table and sign up early, as spots may fill up fast. (By the way, also attending is last week's Werewolf Wednesday interviewee, Rachel Deering. Visit her at booth 719.)
In the meantime, if you haven't read The Wolves of Odin, here's what you need to know: Vikings. Werewolves. It's all good.

Old tale, new look
Comic creator mixes myth and monster in graphic novel
By David Jón Fuller
It may seem a stretch to find the connection between Norse myths and modern horror, but Grant Gould, the writer and artist behind The Wolves of Odin, says he was surprised no one else had thought of it sooner.
Gould is better known in comic book circles for his work illustrating various Star Wars series. Three years old when the first Star Wars movie came out in 1977, a love of the hit space opera stayed with him for the rest of his life.
Appropriately, after years working as a commercial artist, he made his entry into pop culture with a series of Star Wars: Revenge of the Sith trading cards published by Topps in 2005.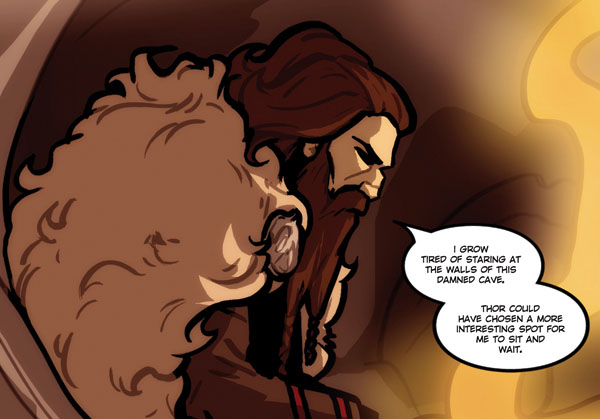 But there were other mythic stories rattling around Gould's head.
"When I was a kid, my mother bought me a mythology book — sort of a 'Cliff's Notes' on the world's different mythologies." he says. "I think in part because of my Norwegian heritage, I felt drawn to the Norse tales and characters. Something felt very earthly and raw and powerful about them."
That crystallized when as an adult he came across an illustration of the wolf Fenrir — son of Loki, bane of Thor — in a book on Norse myths.
"I thought, 'Why has no one made a movie or a comic book about vikings fighting were-wolves?" he says. "It seemed like such a great idea and I really fell in love with it."
Thus began the long research process behind The Wolves of Odin, written and drawn by Gould and published by SuperReal Graphics.
He plumbed the history and legend of the Norsemen, turning to the berserkers, warriors who "would cover themselves with the furs of bears and wolves and roar and growl as they charged into battle."
Of course, anyone with an interest in comics and Norse gods has probably read the long-running Thor series by Marvel Comics, which Gould says was part of his childhood reading. (Among his other influences were Wendy Pini's fantasy comic Elfquest and movies such as Willow and Conan the Barbarian.) Still, he stuck to straight research and didn't seek out other comic-book treatments of the Nordic legends.
"I wanted to get away from the idea of portraying the gods as actual physical characters and hopefully just do something different that people hadn't seen before," he says.
His one-shot graphic novel has a quasi-apocalyptic premise. Set in the time when the Nordic countries were coming under the sway of Christianity, settlements are being ravaged by vicious wolf-men sent by Odin to punish his followers' lack of faith.
Tyr, a mighty warrior, survives an encounter with the monsters and swears revenge. He teams up with a witch, Bergthora. She reveals that Odin is not the only god with an agenda for humanity, and Tyr must decide whether to accept her help.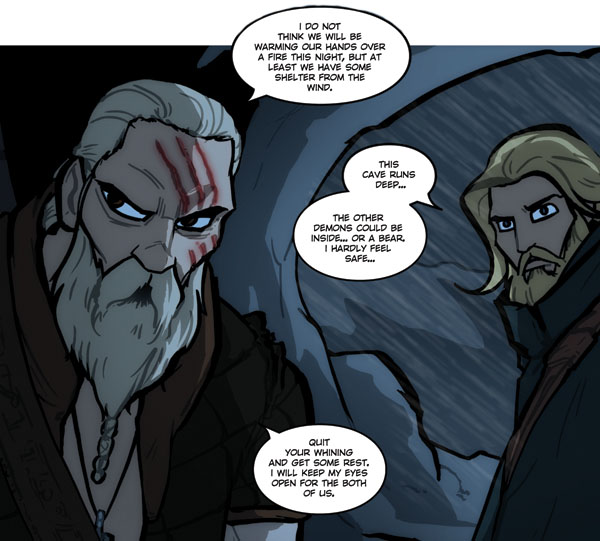 Those familiar with the story of the end of the world told in the Old Icelandic Eddas will see strong parallels between Gould's story and the struggle between Tyr, god of war, and the monstrous Fenrir.
There's also a streak of futility throughout Gould's tale, echoing what comic creator Walter Simonson (known for his hugely popular run on Marvel's Thor) has called the "doom-haunted quality" of Norse mythology. In Gould's tale, the vikings are clearly outclassed by their supernatural foes, and when Tyr teams up with another viking bent on revenge, a man known only as "Gunnarson," they march into battle knowing they likely won't survive.
"I definitely see Norse heroes and tales as having a tragic element, and I think that's a big part of what attracts me to it all," says Gould. "I've always liked the notion of the characters making a final stand and paying the ultimate price for victory — the notion of a mortal man who wants nothing more than to have a mighty, meaningful death. I think that speaks to us all on some level."
As for why the high-concept "vikings versus werewolves" hasn't been done before, Gould muses that there isn't a general awareness of Norse myths in today's society.
"At least not where I live," he says (from Minnesota, where he is in the midst of moving to a new home in the state). "In my own life, I know most of my friends and family had no idea who Thor or Odin were until I explained it to them."
The graphic novel was a labour of love. He worked on it between his numerous other projects, illustrating books, trading cards and comics for the ongoing Star Wars: The Clone Wars series.
"It had to take a backseat to my day job projects," he says, adding that he also had to consider the budget, 60-page limit and the fact he would be drawing it himself.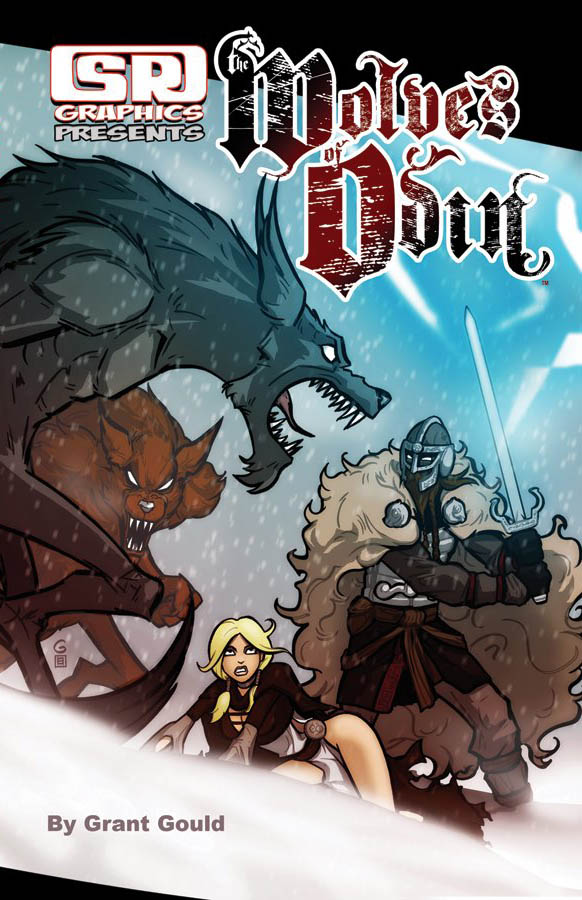 "I initially approached it from a storytelling point of view. I had big, epic ideas for the story I wanted to tell — lots of wolves, lots of vikings, lots of juicy tidbits of mythology," he says. "But of course the reality of life took over at some point and I had to make adjustments.
"I'm happy with how the book turned out — I think it ended up being an entertaining read," he adds. "But I definitely had much grander ideas in mind when it was first developing. I'm hoping that someday I'll be able to do more books and expand on the story.
"As soon as my workload slows down here over the next few months, I'm sure I'll be bugging my publisher about it, trying to set things in motion. But we shall see… It's in the hands of the gods!"
For more information, visit http://grantgould.com/vikings-vs-werewolves.
The Wolves of Odin
by Grant Gould
Super Real Graphics,
Beaverton, OR
2008, 60 pages
ISBN 978-0-9802498-1-1
Originally published in Lögberg-Heimskringla, 1 June 2009.
By the way, since it's Werewolf Wednesday, I know you'll be heading to Werewolf News for a peek at some cool lycanthropic news, right? Click on over!
Related articles