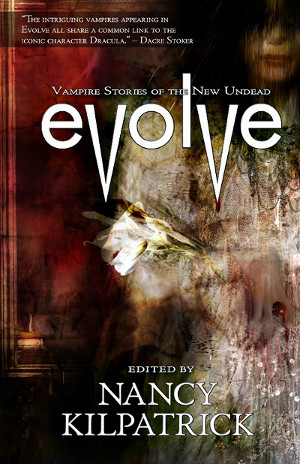 We've all heard enough about vampires recently.
Everyone knows they look like frumpy old ladies, overjoyed that an aging population means they fit in nowadays. Or that they keep humans penned up as food, and having sex with a human is tantamount to bestiality. Or that when a vampire slayer starts killing them off, they go right to the police.
Wait, this isn't sounding too much like Twilight or True Blood — but they're some of the ideas introduced in the new Canadian anthology Evolve, edited by Nancy Kilpatrick.
The Montreal-based Kilpatrick is no stranger to the genre, having written numerous dark fantasy and horror novels herself. She previously edited the erotic vampire collection Love Bites, and co-edited Edge's horror anthology Tesseracts 13.
Tesseracts 13 was the first horror title published by Edge, a predominantly sci-fi and fantasy publisher in Calgary. The success of that book prompted this new all-vampire anthology.

There are some big-name contributors, such as Kelley Armstrong (writer of the Women of the Otherworld books) and Tanya Huff, known for her Blood Books series featuring detective Vicki Nelson.
Most of the pieces are short and innovative. Claude Lalumière's "All You Can Eat, All the Time" puts a twist on immortality: a vampire's memory can only hold so much. Every century or so he needs to leech away a new personality and body, forgetting all that came before.
Colleen Anderson's "An Ember Among the Fallen" is told from the perspective of a vampire throwing a dinner party, perusing the humans he has penned up to pick the best vintage of blood to serve. But facing his ex-girlfriend at the party — when you're immortal, there's centuries of emotional baggage — proves too much, and afterwards he finds himself becoming a "meat mater," a vampire who, well, plays with his food.
More satirical is Rebecca Bradley's "The New Forty," in which a 64-year-old woman is made a vampire and mocked, for centuries, by others of her kind endlessly frozen in their beautiful youth.
But by the 21st century, she observes with glee, "the brief lives of mortals began to stretch … I was amazed to find I was a relatively youthful and potentially attractive woman."
And the vampires who used to deride her don't know what they're missing among the senior set. "Immortality, like youth, is wasted on the young," she cackles.
Not all the stories are as strong. Armstrong's "Learning Curve" isn't much more than an anecdote about a vampire being challenged by a less-experienced supernatural creature.
"Chrysalis," by Winnipeg's Ronald Hore, starts off as an intriguing tale of teen rebellion, in which a girl deduces her distant father is a vampire. But when she comes into her own as a human-vampire hybrid, the story ends before she actually does anything.
Anthologies are notoriously hit-and-miss, but Evolve offers much to enjoy and delight, especially for readers sick of the usual tropes.
If there were a hip vampire dialect, you could say it really sucks — and that's a good thing.
Evolve: Vampire Stories of the New Undead
Edited by Nancy Kilpatrick
Edge
283 pages, $17
David Jón Fuller is a Free Press copy editor.
Republished from the Winnipeg Free Press print edition July 17, 2010 F8