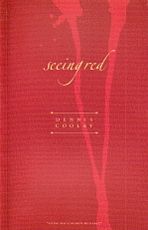 Vampires may have been out of favour in the monster-movie biz until recently, replaced by crazed teenager-killers, but in the literary realm they haven't overstayed their welcome by a long shot, however many novels Anne Rice puts out. (This review was so obviously written before Twilight vastly expanded the readership for all things vampiric. — DJF) Dennis Cooley goes back to the grandaddy of them all, Dracula, for inspiration in Seeing Red.
Cooley's various takes on the vampire mythos in general and Dracula in particular range from the intensely personal to the cunningly absurd.

In "& still i am nervous," the intimacy between the creature of the night and his victim sweeps past Van Helsing's theories to capture a moment of blood and ecstasy. In "she tries to save him," the unfortuante Drac's addiction to the red fluid is laid bare: "face it my man/yr finally an addict/&you gotta get help/right away."
Throughout, it's clear Cooley is having fun with his material, and aside from a few occasionally baffling font changes, the words are powerful, hypnotic, and a pleasure. Hmm. Has anyone seen Dennis Cooley by day?
Seeing Red
Dennis Cooley
Turnstone Press
Originally published in Uptown Magazine, April, 2003.

Related articles