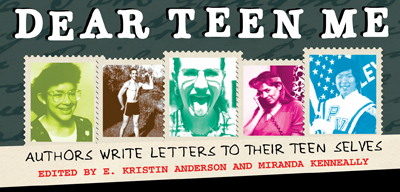 Dear Teen Me:
When I look at you, just about to hit Grade 12, I think, who is that skinny kid? And right, the hair.
I'm going to try to put this in such a way that won't make your trademark stubbornness (which got you through that nasty, soul-crushing period of self-doubt and depression in Grade 11) immediately shut your ears. Crap, I think I've blown it already.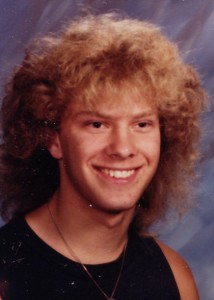 I know you're standing on the edge of an abyss, but it's not the same old one you're used to, where you have to decide whether anything matters. I think you found that answer in all the writing you did – those short stories that set off warning bells in a teacher or two, and especially the one that got published in Scope, the school paper, the one about rage and mercy and understanding someone you thought was your enemy – in which violence turns out to be pointless. You know the one. Your friend Colin in English class cut it out, framed it, and stapled it to the classroom wall over his desk, and you knew for the first time your words actually had an effect on someone.
But while writing all those diaries you keep, the poetry you rarely show anyone, and the music reviews you wish would get you a job with Hit Parader can be good therapy, that's not all it's meant for. You can have an audience, and this is the thing you have to learn: it becomes a conversation.
Why do you need to know this, as you enter Grade 12, still sixteen and not even with your driver's licence yet (I know, I know, you're testing in September)? Because I see you sitting on your bed the night before the first day of school, touchtone phone in your hand, ready to chicken out. You're about to call Mr. Clark, Ms. Doell, or Ms. Klassen, whichever of the teacher-advisors for Scope you can reach, to tell them you're not the guy for the job.
See, even though you applied back in Grade 11 feeling sure that Joanne, the other person who wanted to be editor, would get it — let's face it, she's smarter and better read than you — they gave the job to you.  All summer you've been able to ignore the feelings that you never paid enough to what the the Grade 12 students running the paper did last year — Jacquelyne, Nikki, even Chris, who you got along with even though he used his position as cartoonist to lampoon your love of heavy metal mercilessly — and now you don't have a clue what you're supposed to do.
Number one: you can do this. Number two: get over yourself.
The most important thing about being editor isn't even going to be your writing, and you should really get this through your head as soon as possible. Everyone laughs at the school paper; it's not cool to write for it; it sucks – all that is true. And yet there are 1,200 copies printed of each issue and you know what? Just about everyone reads it. They may hate it – but that means they care.
You're going to find that out when you publish other students' articles on abortion, popular music, prayer in schools, sports, and atheism. When others are motivated enough by what they read to write something themselves, that means you're doing something right. Because in high school, it takes a lot of guts to write something you really believe in, and put your name on it, and let everyone see what you stand for. (By the way: that takes a lot of guts at any point in your life.)
So as you sit  in your bedroom, maybe it's finally setting in that you don't know anything about typefaces, word count, or who to ask for help. (All the staff but one have graduated, some have already moved away; but call Nikki — she'll give you good advice about managing staff group dynamics and how to get people to write.)
But here's the only piece of advice I can give you that matters: DON'T QUIT. All the production details you should have been paying attention to in Grade 11, when you were wrestling with those demons that feel much smaller now, you can pick up. What matters is you keep putting what you believe down on paper, and making sure others do too.
And by the way, you're going to have to write about half the articles in the first issue (at least, it will feel like it) so be prepared to use up all your ideas and then come up with a lot more. Also, ask for help. It's not a sign of weakness, it's called delegation. (Believe me, Mr. Alone-Against-the-World, that's a life skill you should develop.)
So don't chicken out. Believe it or not, while you go on to do a lot of other things you have loved in high school, like writing, art, and theatre, it's in newspapers where you'll eventually make your career.
And you know what? It's a grind, it's exhausting, and it is a total blast. Nothing beats the feeling of seeing your work — and that of others, who otherwise wouldn't speak up — published. So don't chicken out. Now's your chance to try something that actually scares you, and learn that writing isn't just something you do for yourself – it's something you share with the world.
Sincerely,
Middle-Aged Me
P.S.: I'm tempted to add "Get a haircut," but I realize this will provoke automatic stubbornness guaranteeing an extra five years before you would even consider taking that advice. So I'll say nothing but the slightly ominous, "Enjoy it while you can, dude."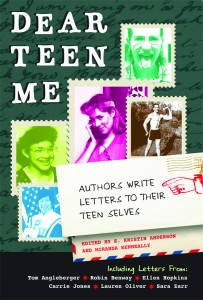 It's been a blast to be a guest blog on the Dear Teen Me blog tour — Thanks very much to Zest Books for inviting me to take part!
See what other writers have to say to their teen selves by checking out the other bloggers on board here, or read the hilarious, sometimes heart-breaking book co-edited by E. Kristin Anderson and Miranda Kenneally, now available.
Dear Teen Me
Edited by E. Kristin Anderson and Miranda Kenneally
Zest Books
$14.99
ISBN 978-1-9369762-1-8