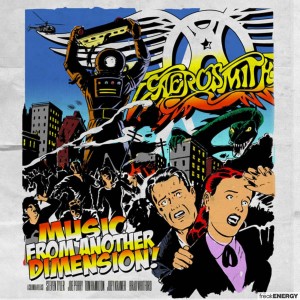 The good news is, Aerosmith's new album shrugs off decades' worth of forgettable über-ballads and rediscovers its heavy-blues groove. The bad news is, it's buried under forgettable über-ballads.

Steven Tyler and Joe Perry channel the best of the eras that made Aerosmith great on "Oh Yeah"; its fast beat and big, fat chords could have come off Get Your Wings. "Beautiful" may have a bit of '90s-era Tyler's keening in the chorus, but it's still a nimble, growling tune that sounds like a randy grandpa tap-dancing around the devil.
On "Legendary Child," the band even riffs off its own classics ("Walk This Way") and borrows an actual riff from Led Zeppelin ("The Wanton Song") — but it works.
Sadly, the Armageddon-esque radio-friendly ballads swoop in again and again: "What Could Have Been Love," "We All Fall Down," and "Closer" are the main offenders.
Somewhere in there is an awesome Aerosmith album worth touring on. But which songs would they play live? There's the rub.
DOWNLOAD THESE: "Luv XXX," "Legendary Child," "Beautiful"
Aerosmith
Music From Another Dimension!
Columbia
Four stars out of five
— Originally published in The Winnipeg Free Press, Nov. 15, 2012