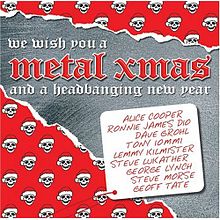 Does the world need a hair-metal holiday album? Yes. More to the point, does it need a good one? Even more YES. Because the motley collection We Wish You A Metal Christmas and a Headbanging New Year isn't it.
Which is a shame because there's some heavy-metal star power on display here, including Lemmy Kilmister (Motörhead), Alice Cooper, George Lynch (Dokken, Lynch Mob), Bruce Kulick (KISS), Scott Ian (Anthrax) and Geoff Tate (Queensrÿche) to name a few. Sadly, their varied efforts at Christmas classics misfire as often as not.

Thye musically astute may well ask, "Well, what did you expect? Could heavy metal ever wed with Santa, reindeer and the birth of the Saviour?" To which I'd say: it seemed to work out fine for the original devil's music, rock n' roll.
That's clear on the album's few highlights, such as "Run Rudolph Run," first made famous by Chuck Berry. Here it's given a growling, headbanging life by Lemmy Kilmister that's just as catchy as the original.
Also matching the source material perfectly is Ratt's Stephen Pearcy on "Grandma Got Run Over By a Reindeer. It sounds like an urban myth shouted from the rooftops by the most snot-nosed, brash, and cocky kid in the neighbourhood. Did I mention it's sung by Stephen Pearcy? 'Nuff said.
However, even talent can't make some songs work in a melodious mashup. Queensrÿche's Geoff Tate brings his considerable pipes to "Silver Bells," but despite doing a fine job, he sounds as if he's forced to fight the ramped-up tempo, and the song falls surprisingly flat.
The biggest disappointment has to be reigning shock-rock king Alice Cooper on "Santa Claws is Coming to Town." Sorry, Alice, but no amount of misspelling and playing up the creep factor in "he sees you when you're sleeping" can turn this into anything but a shambling mess.
Winning the award, though, in the "come on, you can't be serious" department (and be fair: they probably weren't) is Testament's Chuck Billy death-metal guttural growling through "Silent Night." It's so incongruous it's hilarius, but if you're not enamoured of his troll-like vocals, not even Scott Ian's stellar guitar work is going to save this one for you.
Overall, a cobbled-together feel sinks this one to the bargain-bin of endless, generic Christmas albums.
We Wish You A Metal Christmas and a Headbanging New Year
Various artists
Armoury Records, 2008
One and a half stars out of five