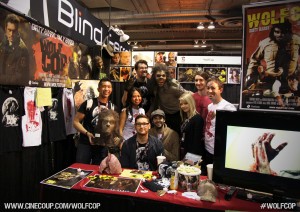 Great news: WolfCop is now a reality. Writer/director Lowell Dean and his filmmaking team managed to advance through multiple fan-voted rounds of CineCoup's development-spurring competition. When they made it into the Top 5 finalists in the inaugural CineCoup Film Accelerator, I had hope they might make it all the way — and on June 10, they did.

At the Banff Media Festival, they and the other four CineCoup finalists pitched their projects to a panel of industry experts, which decided which film project among them would receive $1 million in financing and a guaranteed theatrical release. This is huge for any Canadian film, but even more so for a genre film — Canada seems to be known more for its comedies and dramas.
So: to the WolfCop team: congratulations! It's been fantastic to see this project taking form — now I can hardly wait to see the feature film!
For more information, see the official sites for WolfCop site and CineCoup.
Related articles