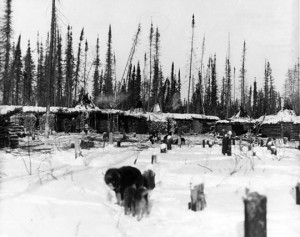 I've written in previous posts about why I wanted to write for Long Hidden: Speculative Fiction From the Margins of History and how I went about it. This post will be a bit shorter, as it is mainly about other details that you don't need to know to enjoy the story, but that you might enjoy knowing anyway. Plus: maps!
(Also, did you know, that Long Hidden is available as of May 9?)

I'm going to embed different maps here and there.  Sadly,  showing all the locations referenced in the story (even though it unfolds in Winnipeg) in one map is a bit unwieldy. The story starts in June, 1919, during the Winnipeg General Strike. But to get into the backstory a bit, we have to go to a few different places.
The main character, Thomas Greyeyes, is originally from Red Sucker Lake, Manitoba.  There is a photo from roughly the same era (1920s) on the East Side Road Authority website. Click on the map below to pull up more info and a quote from "A Deeper Echo."
Other events taking place before the present action of the story are the Battle of Vimy Ridge and the assault on Hill 70.  Thomas's experience in the First World War still haunt him in 1919, but I didn't want to include graphic detail of them in "A Deeper Echo." One, I felt it would detract from the story to have too many flashbacks. Two, it seemed more effective to show the effect those experiences still had on Thomas after the war.

The main story of "A Deeper Echo" takes place in Winnipeg. Some places are still there in 2014; others have changed beyond recognition.
For example, the CPR train yards are still a big part of Winnipeg; however, rather than being near the outskirts, they are now flanked on two sides by the residential and industrial neighbourhoods.
And Victoria Park, where, during the General Strike, supporters of the strike held rallies regularly, is now gone, having been built over in various decades. If I have my geography correct, it was roughly where the MTC Tom Hendry Theatre is now, and condos have been built all through the area.
Balmoral Street, however, is still much the same as it was in 1919, most of the houses on it having been built just prior to then.  The trees, though, are much bigger today. And the view of the Manitoba Legislative Building (which had not yet been completed in 1919) would not have been obscured by the Great West Life buildings that dominate that stretch of Osborne Street/Memorial Boulevard.

Anyway, that about wraps up this little tour through my Long Hidden story, "A Deeper Echo." If any of the maps here are posing problems with viewing (I had some trouble tweaking the view windows), you can see the whole thing here.
And if you want to read the anthology, it's available now.
UPDATE: If you haven't already, see what Long Hidden authors Kima Jones ("Nine") and Sunny Moraine ("Across the Seam") have to say about the stories behind their stories. Kima's piece is here, and Sunny's is here.
UPDATE 2: More Long Hidden authors are blogging and posting about their stories, and you can find the links to them beside each title here.
Related articles