If you think the modern werewolf tale is a thinly-veiled metaphor for raging hormones, Catherine Lundoff would say you're right.  Just maybe not be the ones you're thinking of.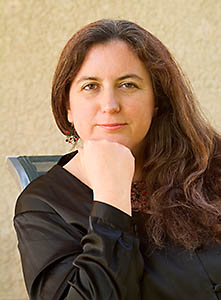 Lycanthropy in pop culture has become so attached to the adolescent (I Was a Teenage Werewolf and Teen Wolf were early examples) that we ignore other times of change in the human body — such as the transition from middle age to one's golden years.
But in Silver Moon, Lundoff eschews that obsession with youth by focusing on women "of a certain age."
"I got the original idea for menopausal werewolves from watching the werewolf film Ginger Snaps, which features teenaged protagonists," she says. "It's also funny and political and very grim, and I wanted to do something a bit like that, except with a protagonist who was definitely not a teenager."

It's just as big a shift, she adds. "Menopause is a time of drastic physical and emotional change that correlates roughly to adolescence in the sense that one transition marks the beginning of a woman's fertility and the other marks the end."
Originally from Brooklyn — with stints in Nicaragua, El Salvador and Mexico — the now Minneapolis-based Lundoff established herself in short-story collections such as  Night's Kiss (Lethe Press, 2009, for which she won a Golden Crown Literary Award in erotica), Crave (Lethe Press, 2007), and A Day at the Inn, A Night at the Palace and Other Stories (Lethe Press, 2011).
She also edited the anthology Haunted Hearths and Sapphic Shades: Lesbian Ghost Stories (Lethe Press, 2008) and was co-editor, with JoSelle Vanderhooft, of Hellebore and Rue: Tales of Queer Women and Magic (Lethe Press, 2011).
Silver Moon is her first novel, which she says was  "a natural evolution for my writing," as she progressed from shorter to longer stories, then to novellas and novelettes.  Silver Moon actually first saw print as a novelette in an anthology of stories about lesbian werewolves, Bitten by Moonlight (Zumaya Press, 2011).
"Once I started writing the story, I got pulled in by the characters," says Lundoff. "I wanted to spend more time with them, and the story kept growing."
In the novel, fifty-something divorcée Becca Thornton is trying to rebuild her life in the small town of Wolf's Point.  Hot flashes presage "the change," marking the end of one stage of her life and the beginning of another.  She's welcomed into the local women's group by her neighbour Erin, to whom she feels a growing and, for Becca, uncomfortable attraction.
All that takes back seat to her discovery that she is also a werewolf — and that the women's group has been waiting for her to join their pack.
Of course, even after she begins to accept her new lycanthropy, things aren't simple. There are hunters out to kill the wolves; but Becca learns they also want something more.
Lundoff is surprised — and perhaps fortunate — that middle-aged werewolves are rare in the genre.
"I can count the better-known ones on my fingers," she says. "That, it seems to me, is a missed opportunity, both in terms of writing about various aspects of being human as well as from a marketing standpoint. It's not as if there aren't plenty of middle-aged science fiction and fantasy fans out there. Then, of course, there is the point that I'm now a middle-aged woman myself and I'd like to read some stories about women my own age from time to time."
Ironically, the thorniest challenge for Lundoff's main character Becca is  her unexpected attraction to Erin. At one point, after kissing Erin, Becca even realizes "she'd underestimated menopause. This was far, far worse than being a teenager."
"Most women I know who came out in later life went through at least some period of questioning before they began identifying themselves as bi or lesbian or trans," says Lundoff. "I wanted to write a protagonist who felt like a real person going through some realistic issues, as well as few less realistic ones."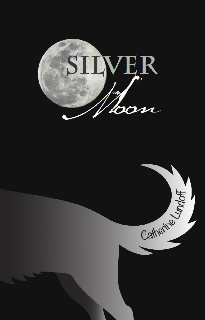 That disquiet with one's sexuality may have its roots in a traditional theme of werewolf stories — fear of our animal nature.
Until recently, homosexuality was generally seen as a choice, not something inherent.  Given the furor in the United States over gay marriage, the notion that sexuality is part of who we are still strikes fear into some.
There are some clear parallels in Silver Moon. Despite the fact  lycanthropy is based in magic, there are some who tout a medical "cure" for it — though its recipients, Becca learns, seem hardly better for it, coming to hate what they were and others who are still werewolves.  It brings to mind so-called "cures" for homosexuality that have been touted by those who want to eradicate it.
Lundoff doesn't shy away from the comparison.  "When I started picturing the werewolf hunters, I was trying to imagine the kind of things that would motivate them," she says. "Simple trophy hunting crossed my mind, but that wasn't really the story that was coming together in my head.
"And as various recent news stories have demonstrated, no one loathes gays like someone who's fighting homosexual attraction, or in this case, lycanthropy, in themselves. And in terms of the story, in order for the cure to be completely effective, it would have to completely override the notion of place-based magic. I didn't really see that happening."
Another distinct flavour in the novel is the quasi-matriarchal pack Becca is drawn into. The women of the Wolf's Point pack secretly protect the town, and their own.  In contrast to the more common archetype of lone-man-wrestling-with-monsterhood, Becca finally finds a kind of empowerment with her new compatriots, enough to fend off, perhaps, the machinations of both her ex-husband and the werewolf hunters out to get her.
Part of that comes from Lundoff's sensibilities as a storyteller. "I was looking at it from the standpoint of something that felt real to me," she says; "if everyone knew that the werewolves existed, the town would be overrun by camera crews, federal agents and other sundry groups who wanted to study, exterminate or preserve the wolves. That wasn't the story I wanted to tell in this book, so they had to be secret."
Which is not to say the notion of women wielding secret power wouldn't be terrifying to some. "Currently, many of our [political] representatives seem to be determined to revisit the seventeenth century as far as women's status goes," Lundoff says wryly. "I keep expecting a call for Inquisitors and public burnings to start up in more regressive parts of the continent."
While the task of writing a novel is obviously different than for short fiction, Lundoff is clearly comfortable with it. "The liberating effect was being able to work on a more detailed story," she says. "Overall, I thought this was a pretty fun book to write."
So much so, that while the novel was just released May 20, she's already thinking ahead to a sequel — and possibly a trilogy. "The wolves don't give up easily," she says.
Silver Moon
by Catherine Lundoff
Lethe Press
$15, 208 pp
Silver Moon is available at bookstores or from Lethe Press here. To learn more about Catherine Lundoff, visit her official website or follow her on Twitter (@clundoff).
Related articles