SLASH / Apocalyptic Love (Universal)
MUSIC fans may well wonder why a band like Guns N' Roses gets inducted in to the Rock and Roll Hall of Fame, when the lineup that made them famous hasn't played together in roughly 20 years.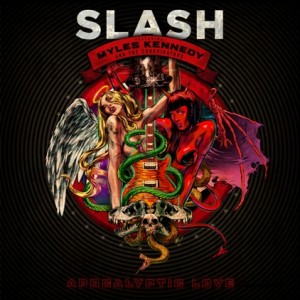 Then you hear what just one of them can do on an album like Apocalyptic Love.
Founding GNR guitarist Slash's riffs and solos are as nimble as ever, and crackle with the energy of a musician still out to top everything he's done before.
Slash's second solo album kicks into high gear with "Standing in the Sun," a melodic thumper full of the electric boogie that made GNR classic "Paradise City" such a crowd-pleaser. "Halo" boils over with sharp hooks and blistering lead guitar, and "We Will Roam" chugs along with radio-friendly riffs and an anthemic chorus.

But the highlight is Slash's brilliant playing. The songs often seem merely a showcase for his six-string wizardry, whether it's some acoustic intimacy or working on a deep, growling groove.
His debut solo album was filled with guests, but this time Slash sticks with a stable lineup throughout, including Winnipegger Brent Fitz on drums. Vocalist Myles Kennedy's yowl complements Slash's blistering leads nicely, especially on "You're a Lie," though it never quite keeps up with (or overpowers) them as Axl Rose's once did, and it's miles ahead of Scott Weiland's anemic singing, which muted Slash's pyrotechnics with Velvet Revolver.
If it's hard to imagine Slash's signature churning, precise guitar work without Rose's equally distinctive voice, stop wishing for that never-gonna-happen GNR reunion and listen to what the top-hatted wonder is up to in this century. You won't be disappointed. Four stars
— David Jón Fuller
Originally published in the Winnipeg Free Press, Saturday, May 26, 2012, G4
Related articles