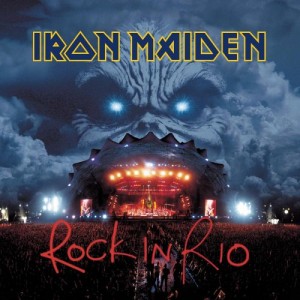 Note: I don't think anyone's asking anymore why we need another Iron Maiden album, given their output and touring since this review of Rock in Rio was originally published — but given the band's high standard for live albums set with Live After Death, you might wonder whether Rock in Rio is worth it. Short answer: yes.
You could be excused for asking, "Why do we need another Iron Maiden album?" If you're actually interested in an answer, listen to Rock in Rio.

In an age when "live album" often means something cobbled together from ten years' worth of performances (This was a shot at Mötley Crüe's 1999 album Live—Entertainment or Death. They redeemed themselves in 2006 with Carnival of Sins Live. — DJF), Iron Maiden show they are traditionalists at heart with this superb concert recording.
New material from 2000's Brave New World is peppered with songs from what singer Bruce Dickinson calls their "Jurassic period," but the 250,000 fans singing along don't seem to mind. Through it all, Dickinson's powerful voice soars over the tight, energetic playing of the band, giving the two CDs a roller-coaster feel. Why another album? Because it was worth doing well.
Die-hards with hard drives will enjoy the two videos included; "Brave New World," and "A Day in the Life," a short documentary, are both excerpts from an upcoming DVD.
Rock in Rio
Iron Maiden
(EMI)
Four and a half stars out of five
Originally published in Uptown Magazine, March 25, 2002.
Related articles