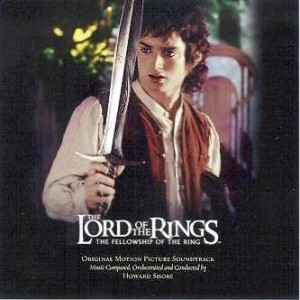 Beginning with a stirring choral piece sung in one of Tolkien's Elvish languages, Howard Shore immerses the listener in Middle-earth. Rather than composing themes for each of the characters, as per John Williams leitmotifs, Shore adds atmosphere to a story already rich in history.
It's just as well he eschews character-specific creations; at nine members of the Fellowship of the Ring, Tolkien's cast was just getting started. The film's score isn't monolithic by any means.

Incorporating many styles, the music is as diverse as the ground covered in the adventure. The whimsical "Concerning Hobbits," featuring a jaunty string section, contrasts sharply with "Shadow of the Past," filled with dread as it heralds the release of the Black Riders. "A Journey in the Dark," following the Fellowship into the Mines of Moria, is underpinned by the ominous tones of a men's choir. Featured in "Lothlorien" is a haunting lament sung in two Elvish languages, Quenya and Sindarin.
Of course, those not enamoured of the film may not want to listen to its soundtrack; neverthless Howard Shore has presented the fantasy/adventure genre with one of the most evocative film scores since Raiders of the Lost Ark.
The Fellowship of the Ring
Original motion picture score
Composed & conducted by Howard Shore
Reprise Records/Warner Music Group
Four and a half stars out of five
Related articles