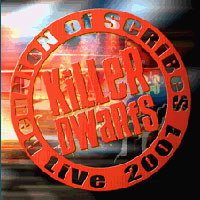 The Killer Dwarfs always scored high on self-awareness, never taking themselves or their genre too seriously—something that comes through on their reunion album.
Full of energy, Russ "Dwarf" lets loose his Geddy Lee-esque voice over the heavy three-chord rock. The original lineup is reassembled, though you could be forgiven for asking "when did it change?" (Probably some time after you last heard of them.)

But for anyone who loved their famous video for "Keep the Spirit Alive," this album presents the Dwarfs at their best: having a blast playing loud music and goofing around with the audience. Sadly, the set is bereft of one of their best-known songs, "We Stand Alone."
If the the movie Fubar is any indication, Canadians still hold a lighter for metal with a sense of humour. Reunion of Scribes probably isn't the last we'll hear from the Dwarfs. (Sadly, I think it pretty much was — DJF)
Reunion of Scribes Live 2001
Killer Dwarfs
(Bullseye Records)
Three stars out of five
Originally published in Uptown Magazine, November 2002.
Because I can't resist, here's an embed of the video for "Keep the Spirit Alive." I still love this.
Related articles