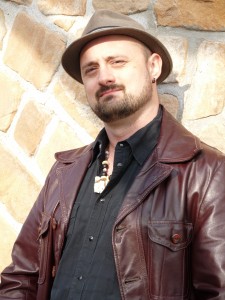 Full disclosure: I've not only read Chadwick Ginther's Norse-mythology-infused novel set in Manitoba, Thunder Road, I got to do so in my capacity as freelance copy editor.  So I felt, having had a part in its production, I shouldn't interview Chadwick about his book.
But, I figured, there was nothing wrong with hosting him as part of a blog tour. (Info on the book launch can be found at the end of this post; he'll also be appearing at Thin Air: the Winnipeg International Writers' Festival this autumn.)

In Thunder Road, oilpatch worker Ted Callan is the only survivor of a fire giant's attack on an Alberta refinery. He moves to Manitoba, falls in with a hitchhiker named Tilda, who may be able to see the future, and is assaulted by a trio of bearded men who cover him with tattoos.
He gets aid from the bizarre power of the tattoos, and from a troublesome if occasionally useful shapeshifter by the name of Loki.  Through all, music plays a part in the story.
Ragnarök and Roll: The Music of Thunder Road
For me, every story starts with a soundtrack.
I was making up my own soundtracks for movies and cobbling together song lists for other people's books (such as one I did for Gemma Files' A Book of Tongues) long before I started writing my own novel.
When I first sat down to write Thunder Road (and for the eventual Thunder Road edition of Trivial Pursuit, in a strange bit of serendipity I was offered my contract on Bruce Springsteen's birthday), I didn't have much of anything, only a scene in which a mortal man was attacked and left with the powers of the Norse gods.
I always write to music, usually loading up my entire library and letting the randomizer sort it out. Because this novel was to be set in then-present-day 2009, I started to think about what kind of music that man would like, and what his musical taste would tell me about him.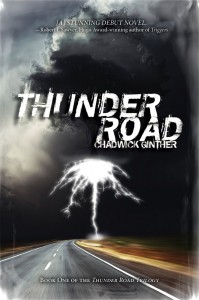 In those heady early days of drafting Thunder Road, I started a playlist, jotting down songs that felt right for the book, or for my protagonist, Ted Callan. When the list became too long and unwieldy, I picked twenty songs that seemed best suited to a book I wanted to write and arranged them as if they were my chapter titles. This gave me a sense of the feel I wanted the book to have from moment to moment. Twenty also seemed like a good number of chapters, neither too short nor too long, and it was also about the average number of songs I could fit on a mix CD.
If you've read (or watched) High Fidelity, you'll know there are rules about how to start off a good mix, and they don't differ much from outlining a tightly paced novel. Kick it off with a bang, up the ante with the next song and then change up the tone with the third. Songs in a good mix should flow from one track to the next—just like chapters in a novel—so whenever I got stuck I'd go back to that soundtrack, take a listen and find a clue about where to write myself next. I usually found that even if a scene didn't work, the mood evoked by the song I'd used for my chapter title usually did.
This song title outline worked so well, I started writing the sequel, Tombstone Blues, when Thunder Road's first draft was barely cold. Songs that fit Ted but not Thunder Road soon bubbled to the top of Tombstone Blues' playlist with their own story to tell.
Observant readers will notice those initial twenty songs didn't necessarily end up as my chapter titles — sometimes the song itself suited the narrative while its title did not — but two years later, that CD is still in regular rotation in my home and car. I've even started setting the soundtrack for a third novel, should readers demand. If they don't, at least I'll have something new to listen to.
Here is the playlist for Thunder Road:
"When the Levee Breaks" / Led Zeppelin
"There She Goes My Beautiful World" / Nick Cave & the Bad Seeds
"Riders on the Storm" / The Doors
"Things Ain't What They Used to Be" / The Black Keys
"Great Expectations" / The Gaslight Anthem
"Little Miss Fortune" / The Now Time Delegation
"A Town Called Malice" / The Jam
"Welcome to My Nightmare" / Alice Cooper
"Until Morale Improves The Beatings Will Continue" / Murder By Death
"Gimme Shelter" / The Rolling Stones (or The Sisters of Mercy cover version)
"Too Tough To Die" / The Ramones
"Misery Loves Company" / Mike Ness (with Bruce Springsteen)
"Scary Monsters (And Super Creeps)" / David Bowie
"Big Mouth Strikes Again" / The Smiths
"Where Evil Grows" / The Poppy Family
"Beautiful Future" / Primal Scream
"This World" / The Staple Singers
"Fire and Brimstone" / Link Wray
"If You Want Blood (You've Got It)" / AC/DC
"The Red Headed Stranger" / Willie Nelson
Thunder Road will be launched Sept. 6, 2012 at McNally Robinson Booksellers. Details here.
Thunder Road
By Chadwick Ginther
Turnstone Press
$16.00