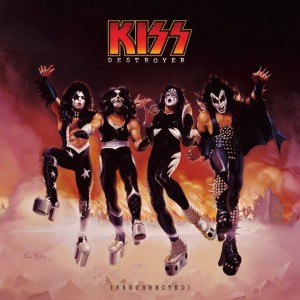 Downloading KISS's Destroyer (Resurrected) marks the fourth time  in my life I've paid full price for this album, but the first time I'm not sure it's worth it.
Destroyer is the album every other studio effort by the band is measured. Given Gene Simmons and Paul Stanley's penchant for self-hype, it's become something of a tradition for them to claim about each new album that it's their "best one since Destroyer." (I can't think of a time when that's been true, though Love Gun certainly comes close.)

There's good reason, too: the original Destroyer, released in 1976, was one of the band's most diverse, intricate and stylized in terms of sound, and introduced many songs that became staples of their live shows for decades.  From the stampeding, nihilistic "Detroit Rock City," to its bombastic companion piece "King of the Nighttime World"; to the plodding menace of what became Simmons' signature song, "God of Thunder"; to Peter Criss's hit ballad "Beth"; to the joyous "Shout it Out Loud" — there's not a dud on either album side.
Yes — I owned this first on tape, after getting a borrowed copy of it from a friend in high school.  Even then, more than a decade after it was released, Destroyer was the album you had to have if you listened to KISS. I loved it so much I eventually bought it on vinyl, as well,  in a used record shop, so I could have the original. Yep. Total nerd.
So of course, years later, when the remastered version came out on CD, I bought that too.
However, the idea that KISS would take the source material of their landmark album, and let original producer Bob Ezrin have another go at it, was intriguing. What would he do with it, nearly 40 years later?
The sad answer is, barely anything.  The texture of the songs is certainly different at times, and it still feels like something out of the 1970s. Paul Stanley's vocals echo more, the sound is a bit more bottom-heavy and Gene Simmons' bass more prominent. The lead guitar sounds more distorted and spacey at times, especially on "Detroit Rock City."
So the sound is fine, perhaps better — but what if you already have the original?
Unfortunately, aside from an alternate version of "Sweet Pain," there's not enough that's different enough to be worth it.  As well, the version of "Detroit Rock City" here has been mixed to match recent remixes, with the shouts of "get down" intruding over the music in odd places, and the chorus being plastered over the guitar solo, which ruins it.
Other rereleases of classic albums, such as Def Leppard's Pyromania, have included bonus material to make it worth your while. To be fair to KISS, there wasn't much they recorded in the 1970s they didn't put on an album (Destroyer, Rock and Roll Over and Love Gun all came out within a two-year period) — but still, there needs to be something in a remix/rerelease to make it worthwhile. Destroyer (Resurrected) doesn't.
Destroyer (Resurrected)
KISS
2012
Original album: five out of five stars
Resurrected: Two out of five stars
Related articles