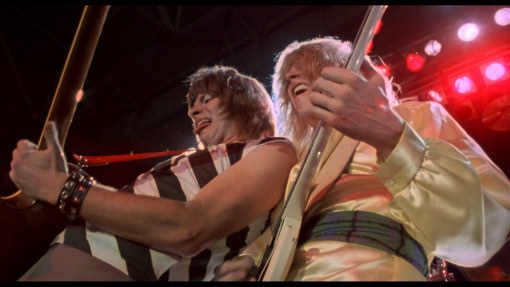 They're too good to be true (or too awful) and sometimes they're hilarious because they don't need to inhabit the real world. Imaginary musicians, faux songs or flat-out spoofs, here are my favourite fake metal bands.

The Frantics / [band name unknown]
The Frantics had a long run as kings of Canadian sketch comedy on CBC radio with their half-hour show Frantic Times in the mid-1980s, which eventually moved to television in 1985-86 as 4 on the Floor. Sadly, as founding member Paul Chato put it "our television show was cancelled because it was too popular. Things work differently here in Canada; we kill the things that are successful."
That didn't stop them from releasing two comedy albums in their heyday, which gained exposure in the United States thanks to The Dr. Demento Show. Their catchphrase was "Boot to the head!" which makes WAY more sense after you listen to skits such as "Last Will and Temperament" (off Frantic Times) or "Ti Kwon Leep" (off Boot to the Head). The latter sketch is still the funniest take on martial arts I've ever heard.
After disbanding in the late '80s, they reunited and began touring and creating new material in the early 2000s, and they're still going strong.
But given the time their TV show aired, it's only natural they'd take a satirical swipe at the emerging dominance of that oh-so-'80s musical genre, hair metal. Here they are in "Heavy Metal Shop."
Omar & Angel
If you've never seen Canadian cult animation classic Rock and Rule, you should. It saw a fair amount of airplay on CBC back in the 80s, mostly because as a feature-length rock animated cartoon aimed at adults, it had failed to get wide (or possibly any) release in theatres. It was Canadian company Nelvana's first movie and when it was finally completed in 1983, it was up against The Secret of NIMH in the "dark animation/not really for kids category" and quickly disappeared.
Which is a shame, since it featured phenomenal animation that still holds up today, superb art direction, and a killer soundtrack including original songs by Debbie Harry, Lou Reed, Iggy Pop and Cheap Trick.
True, the best song in the movie (with a mind-bending music video) is "My Name is Mok (Thanks a Lot)" by Lou Reed; but in keeping with my metal theme, I present here "Born to Raise Hell" by Cheap Trick, performed in the movie under the guise of Omar and Angel's struggling punk band. OK, maybe cross-wiring punk to fit with a metal theme is heresy as well… but this song seriously rules. Sadly, I can only find the "censored" version online — it's missing the backing vocals track. But this should give you an idea of what the movie is like.
(By the way, a deluxe DVD edition including both the Canadian and U.S. versions of the movie was released in 2005 — it's totally worth getting for all the extras, but especially because the voice cast, specifically Omar, is different in the Canadian version, and it makes all the difference.)


Deathtöngue, a.k.a. Billy and the Boingers
Ah, Bloom County. If you were reading comic strips in the 1980s, you would have agreed with Stephen King's thesis in an introduction to a Far Side collection: it was a golden age for the format. You had The Far Side by Gary Larson, Calvin and Hobbes by Bill Watterson, and of course, Bloom County by Berke Breathed.
Bloom County was the weirdest mix, in my opinion, ranging from political satire to slapstick to absurdist adventures and situation comedy. At its heart was the penguin Opus, who survived the shuttering of Bloom County in 1989 to appear later in Outland and again in the 21st century in Opus.
But it was in the 1980s that Bloom County soared, and like The Frantics (above), Breathed recognized the inherent ridiculousness of heavy metal (and the surrounding hysteria in some quarters over "Satanism" in music), and catapulted his characters into the formation of Deathtöngue when one of them, Steve Dallas, figures it's an easy way to make money and meet women.
As for why they were also known as Billy and the Boingers, that comes out in the ongoing story in which, under pressure from a U.S. Senate subcommittee, they eventually try to rebrand themselves as something more "wholesome."
If you can still get your hands on a complete edition of Billy and the Boingers Bootleg, and have a turntable, you'll be able to detach the vinyl single in the book and listen to the (non)hit single "I'm a Boinger" backed with "U Stink But I Luv U."


Spinal Tap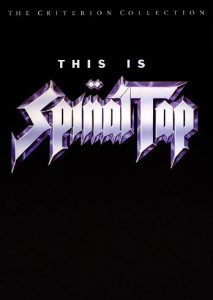 This is of course the granddaddy of fake heavy metal bands, and in one mockumentary, the classic This is Spinal Tap, all heavy metal bands were lampooned and satirically demolished.
Released in 1984, it follows the attempts of the band, played by Michael McKean, Harry Shearer and Christopher Guest, to mount a comeback tour. Through interviews and "archival" footage of the band in its heyday, we see a heavy rock band that hits all the career marks of Black Sabbath, Led Zeppelin, Judas Priest and (possibly) The Monkees.
It's become a classic, not least for the note-perfect performances, in which band members can't distinguish between what "sexist" and "sexy" mean; are proud their amps go up to a sonically impossible 11 out of 10; and can't understand why their drummers keep dying on them.
This is a movie that is hilarious whether you love or hate the entire genre of heavy metal. In fact, if you love it, you'll probably be laughing harder than anyone.


Now it's your turn
What do you think? What fake bands do you wish had really existed? Let me know in the comments… and crank it up!