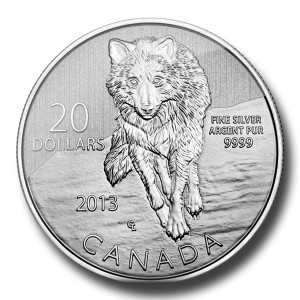 OK, this isn't strictly speaking a werewolf souvenir, but you have to admit the image of a Canadian wolf on the face of a pure silver $20 coin is appropriate for lovers of all things lycanthropic.  The new coin, issued by the Royal Canadian Mint, was released this year. According to the mint's website as I write this, the mintage of 250,000 coins is already 97% sold out.

Which makes me all the more grateful it was an impulse buy on my part when I saw one at the post office this week.  I don't usually go for collectors' coins — I don't have anywhere to display them, and I don't really have many interesting coins to show off even if I did — but I decided to make an exception for this one.
It's described as 99.99% pure silver, and though the face value is $20, mine cost me around $27 — it came with a display card, which is fine, but not a selling point for me.  The size of the coin is about the same as a Canadian or U.S. quarter.
The detail on the wolf image is beautiful, and given the boreal setting of the display card, it seems to be a grey wolf. The artist for the obverse, or front image, is Susanna Blunt; the image of the Queen on the reverse side is by Glen Loates.
There's not much in the way of description or explanation either with the coin or on the mint's website, which is too bad.
However, if you're a werewolf fan, I don't think the Royal Canadian Mint is going to be issuing an American Werewolf in London series (though they have issued one for the movie version of The Hobbit) — so this pure silver wolf coin, which is also legal currency, is likely as close as you will get.