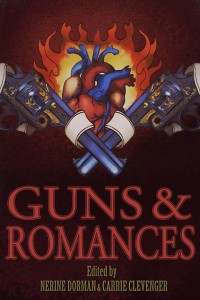 I announced landing a story in the Guns and Romances anthology some time ago, but now I'm thrilled to say the book is now available.
Edited by Nerine Dorman and Carrie Clevenger, the concept for the book was that each story had to feature "two characters interacting, flavoured with guns and music." My story, "Caged," has a same-sex romance, a werewolf, running commentary on the top five heavy metal drummers of all time, and at least two firearms being used in accordance with Anton Chekhov's maxim. Oh, and a snowmobile chase.

According to the promo copy, here's a taste of what you'll find inside: "Greater dangers than mere alligators lurk in the swamps near the town of Bad Moon; a tough-as-nails bartender finds herself wondering whether she'll make it past midnight on New Year's Eve; and a vampire and hunter share a last dance with a gun named Felina. Guns & Romances collects eleven tales of lust, love and violence that cross genres and plunge you into a world of gunfights and action, where the shadows have teeth and love can mean forever – if you survive."
The table of contents is as follows:
"Into the Wilderness" – Sara Taylor Woods
"Harris County Corpse Killers" – Michael Collins
"Gloria, a Love Story" – Ackley Lewis
"Homicide" – Alyssa Breck
"Gods, Guns, and Serpent Tongues" – Mav Skye
"Heavy Things" – K Murphy Wilbanks
"Felina" – Sonya Clark
"Not Just Another Daddy's Girl" – Elizabeth Myrddin
"Bad Moon Rising" – Amy Lee Burgess
"Caged" – David Jón Fuller
"Syncopation" – Marc Nash
"The Dance" – Matt R Jones
Guns and Romances is published by Crossroad Press and is available on Amazon.