Wait, what? It's July already? Not sure how the first half of 2014 burned up like that.  Oh wait, yes I am: I've been writing, editing and submitting like a fool. Well, a circumspect fool.
The year has been full of werewolves so far.
Writing
I meant to announce this earlier, but a brand-new werewolf story of mine, "Caged," was accepted into Guns and Romances, a new anthology from Dark Continents Publishing. I've wanted to send them something for a while, so when the submission call went out, I thought hard about how I could come up with a story that would fit DC'srequirements for the antho. If possible, I wanted it to fit into the cycle of stories I've been working on for the last year and a half, and meet most of the criteria for Long Hidden, which is something I've been trying to do with new stories since submitting to that anthology last year.

(Speaking of Long Hidden, I did a little walking tour of Winnipeg of locations from the "A Deeper Echo," on the same week in June the story is set. A lot has changed since 1919, but some places are probably much the same. You can see the shots I took on my Facebook page — including climbing up onto the Arlington Street Bridge at 5:30 in the morning — here. While you're there, feel free to like my page!)
"Caged" started out as a first-person narrative, but I wasn't totally happy with the voice, so I switched it to third-person and rewrote it. I just sent in the first round of revisions to editor Nerine Dorman, who has been fantastic to work with. When I know more about the release date for Guns and Romances, I'll post it here.
I also did a round of edits on a short story I am very happy with but can't talk about yet because the details haven't been formally announced yet. When the editor for that one gives the green light I'll announce that too. But you may surmise one word about it: werewolves.
As for other writing news — this is less interesting for readers, but writers will get it. I started tracking submissions and markets through The Grinder on the advice of Sunil Patel, and while it's fun I'm still getting the hang of it. Kind of duplicates the spreadsheet I already have going, but The Grinder also helps you find new markets.  And, in June, I wrote a brand-new short story to add to the clutch of tales I have out on submission. Yes, there are werewolves in it. That one has already been rejected, unfortunately! But the letter was one of those good "made it through multiple rounds but didn't make it in" rejections, which to me is more encouraging than a form rejection. Already sent that story on to a new market.
Movies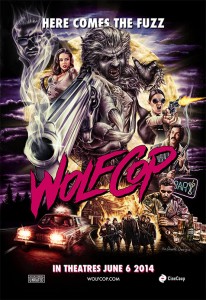 What else? Oh yeah! As a lucky Canadian living in a major city, I got to see Regina-filmed werewolf flick WolfCop on opening night! I went with friends to see this gloriously over-the-top old-school-effects werewolf film, which was released nationally under the auspices of CineCoup. To me it felt like a mashup between Strange Brew and An American Werewolf in London. They sure deserve some awards for the effects, the music, and last but not least, the script — something along the lines of "Best Use of the Word Gitch in a Motion Picture." Also: werewolves! Well, mainly one, but I have my suspicions as to what direction filmmaker Lowell Dean will go in the already green-lit sequel. You can read more about how WolfCop won popular support to garner huge funding and national release here.
If you don't live in Canada, you may still have a chance to see WolfCop in theatres later this year; check their website for details.

What's next
That's about all the writing news I have so far this year (that I can talk about). Planning to take a hiatus from new short stories for a while as I get one big other project out on submission, and start working on my next one. If you haven't guessed by now they involve werewolves, I can't help you.
Until next time, hope you are having a good summer so far, and hope all you other writers out there are either chugging along at your goals, or taking a break to recharge, whichever you choose!