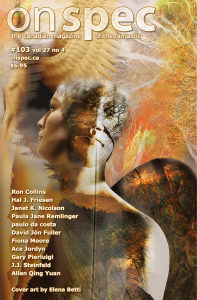 I guess I could have sneaked (snuck?) this news into my last post, but I didn't want to announce I had a short story in On Spec for the first time ever without being able to link to the latest issue and show off the gorgeous cover. I was very pleased that they accepted my short story "Not Fit to Print." I've read On Spec for years and it was one of the first markets I started submitting to, way back when.
"Not Fit to Print" is about Marion —a waitress, a werewolf and a part-time private eye — as she tangles with the media in Winnipeg in 1965.

By the way, for other aspiring writers out there, On Spec actually turned this story down when I first sent it in to them, and made specific notes on what they felt wasn't working, offering to look at it again if I revised it. Well, with the help of two writer-friends who were willing to pick it apart for me as I revised, I got it into good shape and On Spec liked the next version I sent them enough to offer publication. Persistence, friends! A.k.a. "do the work."
And the editors at the magazine took an even closer look at the minutiae of the story to make sure it was all working as it should. They were wonderful to work with. (Yes, I love revisions. They save much head-desking later.)
I should add to that this is my first magazine fiction sale in a looooooong time. (I've been chasing anthology calls for submission, mostly; but magazine markets are, for me, harder to crack). And my first story in a magazine with a history as long and storied as On Spec. I feel as if I should announce ACHIEVEMENT UNLOCKED, but I will only do that if it is followed by cake. I'll report on the availability of baked goods at a later date.
So: On Spec is available in print — if you subscribe today you get the current issue as well as a year of great fiction. Find out more here.