When I was growing up, Canadian history was generally not thought of as being as "exciting" as U.S. history. Sir John A. MacDonald and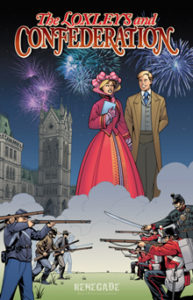 Confederation just didn't seem as dramatic as George Washington and the American Revolution. Well, things have changed — at least in terms of how Canadian children can learn about the country's history. I had the opportunity to talk to the creators behind The Loxleys and Confederation, which was the sequel to The Loxleys and the War of 1812. Taken together the two graphic novels put a personal stamp on Canada's precarious position in the 19th century, as the nascent country struggled to avoid domination by the expansionist United States.
For many Canadians, learning our history is a bit of a chore.  We feel, perhaps, Americans get all the exciting history — perhaps because Hollywood keeps telling us how thrilling it is — but Canada's story is, well, boring. Right?
Maybe we just aren't looking at it with fresh eyes.