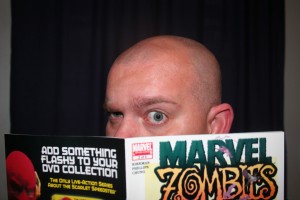 For those who don't know, Jason McKinney is an author who has tackled zombies (Memoirs of the Dead), werewolves (Dog World and Dog 'Verse) and both at the same time (Werewolves of the Dead).  One thing I really wanted to know, since his latest novel deals with the  (inevitable) werewolf apocalypse, was what would make his playlist? Check your music catalogue and crank up your iPod so you, too, can be ready.

*  *  *
Music is a huge part of our everyday lives. So much so, that just about everyone has their own personal soundtrack for everything they do from making it through the work day to going to sleep at night.
I've found that some writers, such as me, also have soundtracks to drive their writing. I have one that I've used to write Dog World and its sequel, Dog 'Verse, but if the world were to come under a real werewolf attack, I'd use it to fight by, too. Some of the songs in my soundtrack are more recent while others are from my teenage years. It's an eclectic mix that gets me motivated to write about or deal with a lycanthropic incursion.
Johnny Cash's "When the Man Comes Around" is a song that evokes an apocalyptic feeling in me. It's the song I envision to hearken the beginning of the end. Everything about Mr. Cash's song causes a sense of foreboding that the end times are near.
Matchbox 20's "How Far We've Come" makes my heart race in a trouble's-coming-let's-freaking-run-like-hell kind of way. This song brings to my mind imagery of panic, fear, and uncertainty as people try to escape cities for some hope of safety.
When I was in high school I listened to Shakespears Sister. Yeah, I know it's weird, but I'm a weird guy. Even today Siobhan Fahey and Marcella Detroit inspire me. "Hello (Turn Your Radio On)" really drives home the feeling of hopelessness I imagine I might feel should the world be turned on its ear by a werewolf apocalypse.
But my number one pick for my werewolf apocalypse soundtrack is "All These Things That I've Done," by the Killers. "If you can hold on, hold on" strikes a sombre, yet determined chord in me. The title and tone of the song implies, to me, that you'll do things that you're not proud of, or may have thought you would never do, to survive. The lyrics, "Over and in, last call for sin. While everyone's lost, the battle is won with all these things that I've done," conjures up the feeling of a survivor doing things that goes against their moral compass.
My soundtrack also includes songs such as "When the Bullet Hits the Bone," "Miss Murder," and "Flagpole Sitta." My tastes in music, like werewolves, come from all walks of life. The shocking thing to most people is that my repertoire doesn't include "Lil' Red Riding Hood," by Sam the Sham and the Pharaohs or Creedence Clearwater Revival's "Bad Moon Rising," though it does include Oingo Boingo's "No One Lives Forever." How could I not include it with a line like "It's the hour of the wolf and I don't want to die"?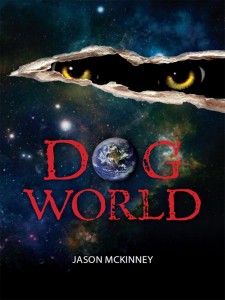 Music inspires and invokes different emotions in all of us. It's well known that certain songs can raise you to new heights while some make you damned melancholy or even apathetic. I have chosen music that fires me up.
For if — or when — a werewolf apocalypse happens you'll find me on the road with a 1911 pistol strapped to my hip and an AR15 in my hands as I hum along with my iPod of listed lycan music. If you happen to be in my part of the world when it all happens, stop by and jam with me!
For more on Jason McKinney, visit his website at jasonmckinney.wordpress.com/
Related articles