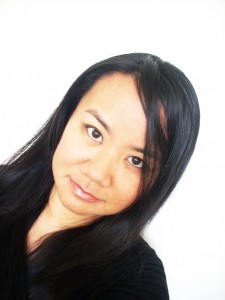 Nu Yang is author of "A Good Mate is Hard to Find," one of the fresh new tales of female lycanthropy in Wolf Girls: Dark Tales of Teeth, Claws and Lycogyny. The anthology was published this summer by Hic Dragones.
Nu's atmospheric, visceral tale starts off with a rash of murders causing grief for the local werewolf — but not in ways you would expect. It turns out finding an appropriate and worthy mate is even tougher for werewolves than regular folks, which means the old "it's not you, it's me" conversation is more than just awkward for the supernatural creatures among us.

(You can find more information on the anthology (and a book trailer!) at the end of this post.)
As part of the Wolf-Girls blog tour, Nu has graciously agreed to write a guest post about some of the music behind the story. Take it away, Nu…
The Wolf
By Nu Yang
I'm a writer who works with music playing in the background, but it's not so much in the background; sometimes it becomes another character in my writing. I love music as much I love words, so when I write, I usually listen to a certain artist, band, or soundtrack to create a specific mood.
If I want something dark and angsty, it's Lacuna Coil or Within Temptation. Romantic and sexy? Nine Inch Nails (Trent Reznor is romantic and sexy to me, okay?) or Depeche Mode. Action scenes? Celldweller and Metallica. And the soundtrack for Inception and anything by Bear McCreary pretty much works for anything I write.
For my wolf story, "A Good Mate is Hard to Find" in Wolf Girls, I wanted to create a dark tale. It's about a female werewolf in search of her perfect mate–which in this case, is a serial killer. I listened to a couple tracks while writing the story and David has invited me to share my "unofficial" soundtrack with you.
"The Wolf" by Fever Ray
I first heard this song on the movie trailer for Red Riding Hood and I was immediately captivated by it. With lyrics like "Eyes black, big paws and its poison/and its blood and/big fire, big burn into the ashes/and no return…" it really worked with the mood of my story.
"Wicked Games" by The Weeknd
Okay, so maybe there's more to sexy songs than NIN, but THIS song is dark and evocative, just like my werewolf tale.
"Night of the Hunter" (Flood Remix) by 30 Seconds to Mars
A pretty awesome action song. I picture this as a "werewolf on the hunt" song. Fast-paced, high energy.
"No Light, No Light" by Florence and the Machine
This song has a lot of meanings, but as I was writing, it really evoked a feeling of desperation for my main characters especially the line "I'd do anything to make you stay…"
"Be Like Water" by Sarah Fimm
Another sexy song. I've been in love with this song for years. It's helped me capture the mood for plenty of stories and of course, it made an appearance with this one.
"Thrown Away" by VAST
VAST is another band that creates a certain mood when I write. The energy in the songs, the lyrics, the beats, the rhythm—all of it really helped me with this story.
"Something I Can Never Have" by Nine Inch Nails
Of course, Trent had to make an appearance. This song just worked with my story especially for a lone wolf looking for her perfect mate.
"Love is Gone" by Dommin
I guess you sense a theme here with my soundtrack. This one fits it perfectly. Dark, angsty, sexy, but you can't help but listen.
Thanks for reading, and thanks to David for letting me participate in Werewolf Wednesday!
Nu Yang is a resident of Southern California, where she is an associate editor. She is a 2006 graduate of the Odyssey Writing Workshop and a June 2009 graduate of the Writing Popular Fiction master's program at Seton Hill University. Find her online at nuyangwriter.wordpress.com.
Thanks, Nu!
By the way, if you haven't read the anthology, do yourself a favour and do so right now. (It also features writing by my fellow Werewolf Wednesday co-conspirator, Werewolf-News.)

Wolf-Girls: Dark Tales of Teeth, Claws and Lycogyny
Edited by Hannah Kate
Hic Dragones
Related articles