Looks like a busy fall for those keen on werewolves, whether you're a creator like Rachel Deering, who just launched the second issue of Anathema but is now looking for a new artist to draw the remaining four issues, or a keen fan looking forward to HowlCon 2012 or the new DVD rerelease of An American Werewolf In London. While you're at it, you can get kitted out in style with the new werewolf tee available at Werewolf News.
Anathema returns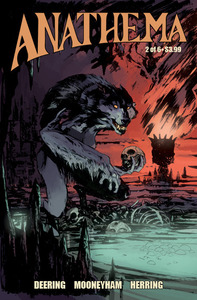 Readers of As You Were should be familiar with the work of Rachel Deering, whose lycanthropic tale of revenge, Anathema, has garnered rave reviews.
The success of the first issue enabled Rachel, who is publishing the series independently, to fund issues 2 – 6 in part thanks to a second successful Kickstarter campaign that concluded this spring.

Donors have already read the first two issues, but if you haven't read them yet, go to Rachel's online store and see what you've been missing. If you want a second opinion, you can read a live-tweeted review of the latest issue at Werewolf News.
I had the pleasure of interviewing Rachel twice earlier this year, but you can read a more recent in-depth interview with her at Comics Bulletin here.
If you're in Baltimore, catch up with her at the Baltimore Comic Con, September 8 – 9.
Werewolf merch
Speaking (a paragraph ago, anyway) of Werewolf News, did you know you can get a fabulous werewolf shirt free of tortured, brooding angst? Check out what Andrew Quinton and Tandye Rowe have come up with, and consider adding one to your wardrobe. I speak, of course, as a t-shirt nerd who already has too many tees — and I'm getting this one.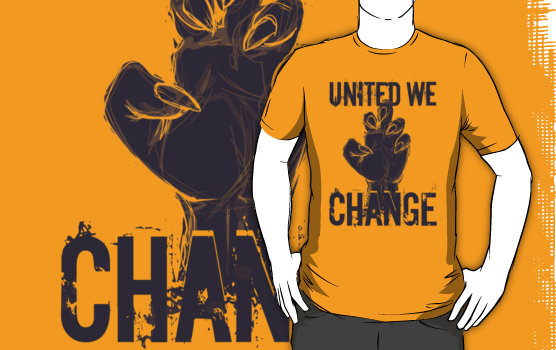 American Werewolf on DVD (again)
What else?  Well, there is a new DVD release of An American Werewolf in London, though it's not clear whether there's anything new on this edition. If you already have this werewolf classic on Blu-Ray or DVD (I have a DVD/HD-DVD version, but the DVD package includes some nice extras), then you can probably give it a miss. If you don't have a copy, though, it's a classic for a reason — chilling horror, dark humour, and some fantastic special effects that still hold up today.
Howl Con gets off the ground
If you've been following news in the werewolf community this year, you know there was to be a first-ever WerewolfCon in May. Unfortunately, the event organization collapsed and some, such as werewolf writer Jason McKinney, were left out of pocket for money they had paid to take part an event that was now not going to happen. You can read Jason's account here.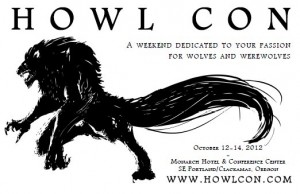 So, it was with some surprise that I found out, thanks to @PDX_Werewolf, that the first-ever Howl Con will be held in Portland, Ore. Oct. 12-14.  Guests include Satyros Phil Brucato, who worked on White Wolf's Werewolf: The Apocalypse; comic artist Caytlin Vilbrandt; special-effects makeup artist Julie Corbett; and scholar Rev. Dr. Phillip A. Bernhardt-House, author of  Werewolves, Magical Hounds, and Dog-Headed Men in Celtic Literature; among other guests. You can find out more about the con at the official website.
Well, that's all I've got for this week. Hope you're all having a great #WerewolfWednesday come back for more features on Feature Friday and Metal Monday! (And if you can think of a series I can alliteratively feature on Tuesdays, I'm all ears…)
UPDATE: Andrew at Werewolf News has talked to one of the organizers of Howl Con 2012 and has a more in-depth look at it here.
Related articles