Welcome to a new feature here at As You Were: Werewolf Wednesday. In which we reserve a day for that greatest of monsters, often overlooked thanks to shambling zombies and flawless vampires. Our first feature in the series is with independent comic book writer and letterer Rachel Deering.
*  *  *
If you're tired of garden-variety werewolves, comic creator Rachel Deering has a new one for you: a lesbian shapeshifter out for revenge against religious zealots and fighting members of a sinister cult for her lover's soul.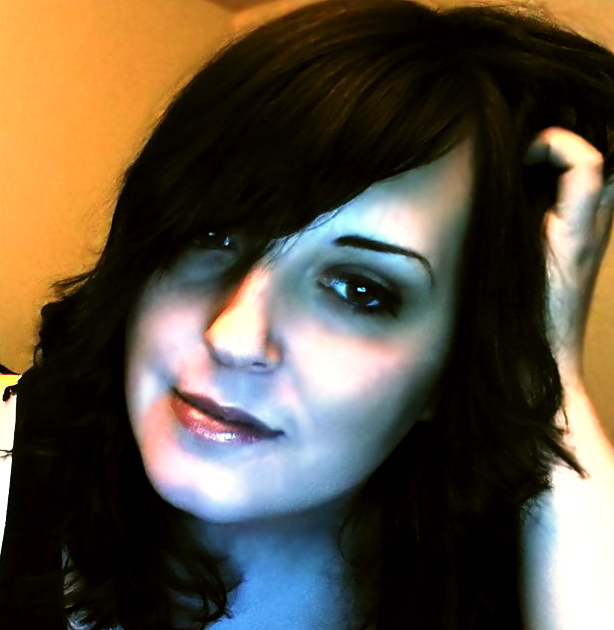 Rachel, 29, was born and raised in a small town in northeastern Kentucky. Her passion for comics took root at age seven, when one of her uncles gave her his old collection, and horror was front and centre. It was love at first sight.
"It wasn't a very large collection, maybe ten or twelve magazines," she says, "but they were all quality." Among the titles were genre staples such as Heavy Metal, Creepy, and Tales from the Crypt.
"Not exactly light reading, especially for one so young as me. I read every single issue until the pages were falling apart."

Her love of reading took root and flowered, as she devoured books during her youth, reading "everything I could get my hands on," she says. "When I was in high school, I took as many English, literature, and writing classes as I could, and my teachers all encouraged me to pursue writing as a career."
Though according to Rachel, she has no formal training as a writer, that hasn't stopped her from publishing short stories in anthologies such as Womanthology, FUBAR, and Nix Comics Quarterly.
And, she adds, with a note of self-deprecation, "Anathema is my first full-length comic work, so people who are just getting into my writing should take comfort in the fact that they don't have a huge back catalog to search for."
Published by Tiny Behemoth Press, Anathema is written and lettered by Rachel, drawn by Chris Mooneyham and coloured by Fares Maese.
In the first issue, readers are introduced to Mercy Barlowe, who lives in a time when the Inquisition holds sway. The local religious authority leads the community in capturing and burning at the stake Mercy's lover, his own daughter Sarah, because she has "seen fit to lie with another woman! She has committed abomination!"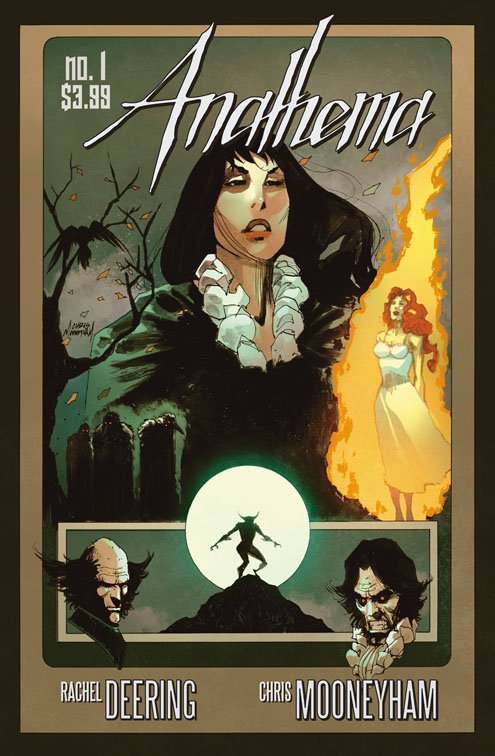 Mercy pleads for help to save her lover, but instead it seems evil spirits in the form of ravens intervene to drive away the religious persecutors – but also steal Sarah's soul.
Mercy seeks arcane help to rescue her lover, and in the process must become a monster herself, hunting the ravens as a werewolf.
Rachel, as a lesbian herself, makes it clear she doesn't think the climate of homophobia in the U.S. today is on the same scale as the witch burnings of old.
"The persecution of suspected witches happened on a grand scale, and was sanctioned by higher authority," she says. "The people who physically assault or murder homosexuals today are one-off radical individuals. Sure, homophobia and related crimes are an atrocity, but nothing nearly so horrible as the Inquisition."
Still, it's a subject that has resonance for her. While she hasn't had to deal with much prejudice herself, her father reacted quite negatively to her sexual preference. "He told me I was a demon and that he'd never condone a lifestyle like mine, and so on," she says, adding that she considers that narrow-minded nonsense. Having moved from Kentucky, Rachel now lives with her girlfriend in Columbus, OH.
Rachel admits there are parallels between her experience and that of Mercy and Sarah's. "I was never burned at the stake, though, so I have that going for me," she quips.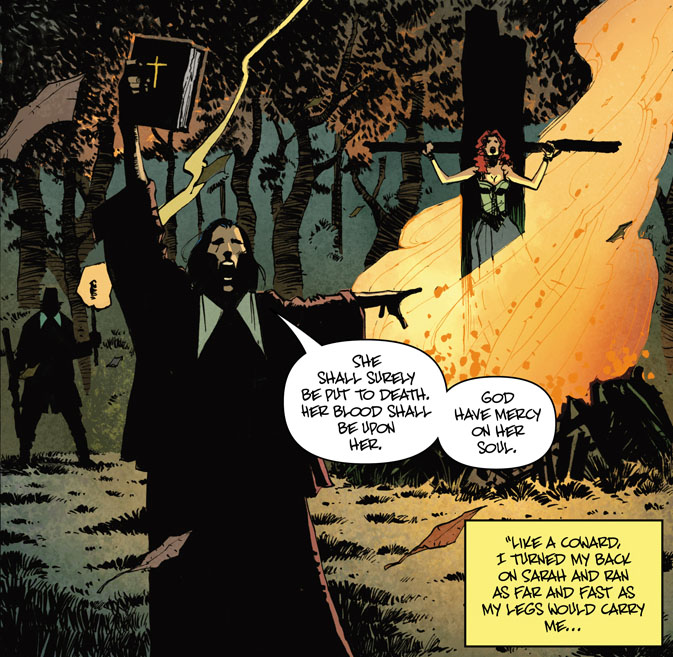 The ability to get at what a society fears is a particular strength of the horror genre, but it isn't necessarily overt. She wasn't out to make a political statement about the evils of homophobia and religious extremism, she says, but drew from them because "they're real-life situations which give me chills." She likens it to the slasher films of the 1980s such Friday the 13th, Halloween, and A Nightmare on Elm Street – they weren't necessarily shedding light on serial killers. "I'm not much for throwing politics and personal beliefs into my art," she says. "At least not on a conscious level."
Werewolves have held a certain fascination for her since she first saw The Howling. "For me, that film set the standard for what a really scary creature should be. Since that day, I've yet to find anything that scared me more, so I stuck by my love of werewolves."
But unlike the filmmakers behind the horror classic, she's perhaps afforded more freedom in her chosen medium. There are no budgetary restrictions in comics in terms of story, setting, or effects. And she feels comic book readers are more engaged, using their imaginations to create sound effects and controlling the pacing at which the story unfolds.
"With television and movies, I feel it's all a very passive experience," she says. "The camera shows you what you are meant to see, the mood is set for you, the characters control how emotions come across. The audience is meant to just sit there and accept it for what it is. It seems a no-brainer to me that comics are the more fulfilling of the two experiences."
Rachel is also a fan of all categories of heavy metal (which should be clear on the last page of the first issue of Anathema to attentive readers), but says her love of the macabre influenced her muscial tastes, not the other way around.
"I actually do not listen to music while I am writing," she says. "Some people will probably think that's crazy, or call me dull, but I find that it just takes my head out of the story."
Rachel doesn't suffer from writer's block "nor do I believe in it," she adds, but for an independent creator, one hurdle is constant:  "Money. Without a doubt." she says. "I don't have an issue finding great artists, there's no problem with getting people to read my work. The only thing that seems to be a hurdle is money. I've had some extremely generous donations from friends and total strangers to help further my passion for comics, but I've also had people royally rip me off."
Part of what got the first issue of Anathema off the ground was a Kickstarter campaign that raised funds to support its creation; however, some of the pledged money never materialized, forcing Rachel to scale back what she had hoped to do.
She keeps her eye on the goal, though, which is a six-issue run of Anathema. There is a second Kickstarter campaign to raise funds for the next five issues, which you can learn more about here.
"I should be finished panhandling after that," she deadpans.
"Honestly, though, without the support of so many amazing people, Anathema would have been nothing more than one of my wild dream projects. I am so very thankful for each and every one of the fantastic people who had faith in me and what I'm doing."
Anathema No. 1 is out now.  For more information, Rachel has a website coming online soon, and a preview of Anathema is available at her DeviantArt.  The best way to get updates on the series and what Rachel is up to is to follow her on Twitter.
UPDATE 1: Rachel Deering will be at C2E2, the Chicago Comic & Entertainment Expo, which runs April 13 – 15. If you're in the windy city next week, look for her there.
UPDATE 2: You can't keep a good werewolf down. Andrew Quinton at WerewolfNews.com has embraced the idea of Werewolf Wednesday, a concept I make no claim to inventing, since it was already a hashtag on Twitter, but if you haven't already used the link here on As You Were to visit his site, check out the great roundup of lycanthropic goodness in this single post. We're going to keep this thing going, so hop on board.
UPDATE 3: Read Comics Bulletin's review of Anathema No. 1 here.
UPDATE 4: Read Slacker Heroes' insightful review here. And the Kickstarter campaign to fund the rest of the series recently passed the halfway point — help Rachel get all the way there.

Related articles