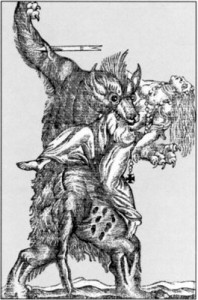 Usually by this point in the holiday season (and the year) I am totally exhausted, but I'd be remiss if I didn't thank you all for being part of my first year of blogging here at As You Were.
I started in February with a WordPress.com site, and started connecting with great bloggers such as Offer Kuban (wonderful writing on wine and travel), sj (brilliantly booksnobby), Amy (hilarious and with many deep thoughts), Andreas (witty and smart scientific posts), and The Booksluts (who very patiently bore with me as I tried to figure out WordPress.) (Actually, I'd say that goes for everyone who stops by here.)

Along the way I started to realize I am perhaps obsessed with Beowulf, I am one of many writers slogging their through innumerable rewrites of a novel, and that there are already a number great werewolf blogs out there (I'm looking at you, Werewolf-News.com).
I was thrilled to start interviewing people at As You Were, such as the talented comic writer and letterer Rachel Deering (if you haven't been reading Anathema, start now); novelists such as Julianna Snow and Catherine Lundoff, and taking part in blog tours for folks like zombie/heavy metal expert Armand Rosamilia.
By May, I'd started running into a few limitations with my WordPress.com hosting (what? it won't let me install a phases of the moon widget? Fie!) and, after tweeting to blogger extraordinaire Amberr Meadows and again grilling the Booksluts on moving to a self-hosted site, I made the leap myself in May.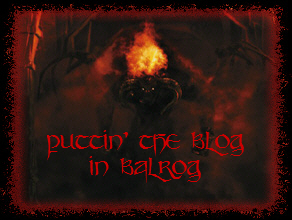 Just in time, too, because in discussing Tolkien with sj on Goodreads, we somehow came up with the mad idea of blogging a huge read-along of The Hobbit and The Lord of the Rings over the summer. The ever-diligent sj came up with just about everything, from a reading schedule to a cadre of other bloggers to an official frickin' badge for the series that I still think is awesome. I contributed a lot of enthusiasm and, I think, the title: "Puttin' the Blog in Balrog."
You can get a full survey of the myriad bloggers and their posts at Booksnobbery; but it was thanks to this wide-ranging series that I got to know the writing of such fine bloggers as Heather, Danielle, Tony, James, and many others. And I have to say, apparently the most popular thing I have ever written on Tolkien is a review of the soundtrack of The Two Towers. (Actually, I've gotten more hits on Tolkien's dwarvish (not dwarfish) names, but since I shared that myself to reddit, I'm not counting that.)
I got a little more sane in the fall, but still rolled out a bit more organization, republishing some older pieces I had written along with new writing for Metal Monday, Thunder God Thursday and Feature Friday.
I was also very happy to add Chadwick Ginther to the list of authors stopping by for a guest blog post, and as I did for Nu Yang, Jason McKinney, Julianne and Armand, I asked him for a book-related playlist.
Not only that, but after submitting As You Were to Alltop, I was pleased to see I'd been added to their list of heavy metal sites.Woo-hoo! Hope all you visitors reaching me via that route aren't too beflummoxed by my posts on werewolves and Norse gods.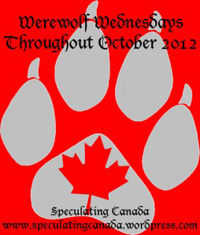 My only regret is that when Speculating Canada picked up on the phrase "Werewolf Wednesday" (which some of us on Twitter had already been using to get the word out on lycanthropic news) and ran a series once a week in October, I was not able to post on it every week. Still, got to coordinate with the first-ever HowlCon in Portland and run my first-ever Q & A here, with the erudite Dr. Philip Bernhard-House on Celtic werewolves.
In a bit of a switch (though not really, if you know what my novel-in-progress is about), I took part in the blog tour for Dear Teen Me. Other people's entries and the ones in the actual book are far better than mine, but it was a hoot to look back and attempt to give the younger version of me some words of wisdom. Well, some words, at least.
What's next? Not too sure, but I have more plans to interview writers, pontificate on monsters, review heavy metal, and muck around in myth. So for all who have been with me so far, thanks for stopping by; and to any I have forgotten to mention, I apologize — it's the end of the year and I'm a bit fried. Looking forward to more blogging in 2013, and learning a lot more as I go.