As I work on my own interminable werewolf work-in-progress, I think often of what would be on its official soundtrack. This is one of those tricks authors use to avoid writing. We call it brainstorming, or world-building, or visualizing. But it's not.

Similarly, while the various subcultures of popular music in 1980s Winnipeg are central to the novel, especially the heavy metal of the time, I am endlessly tweaking the unofficial soundtracks in my mind. Yes, I said "soundtracks," because I am such a nerd I started making up soundtracks for different characters to help me get into their heads a bit more. (That's another one of those authorial "tricks"; see above.) Anyway, you don't want to see the massive playlist such endeavours have generated.  Well, maybe you will, when the novel is eventually published. But only if you're a total music and writing nerd, like me.
Anyway. One of the major shortcomings of pop music to have been laid bare by such a process is that there are hardly any good songs about werewolves. Never mind that, there are hardly any songs about them, period.  (I'm biased by genre, of course; but I will say that the werewolf finds a warm welcome in the heavy metal ouvre.)
For those of you who use Spotify, Nadine Holmes (a.k.a. @MadNad on Twitter) has put together a playlist. Sadly, I can't access it since it's not available in Canada.
So, I thought today on Werewolf Wednesday I'd put together my own list of werewolf tunes, and argue their relative greatness, such as it is.  Feel free to chime in; I'm going to include my first-ever poll here, as well.
1. Ozzy Osbourne / Bark At the Moon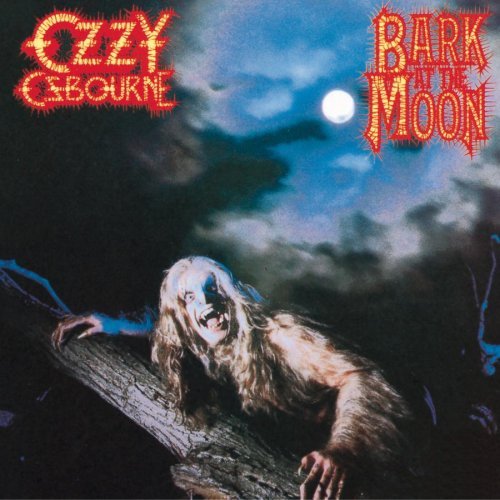 This one's a no-brainer.  I have so far not found a more blatant embracing of being a werewolf in popular music.  Heck, Ozzy even named his whole album after this song.  He was apparently very impressed with the film An American Werewolf in London, which had come out in 1981; Ozzy's Bark followed in 1983. The full story of Ozzy's transformation into a werewolf for both the album cover and music video, by the way, can be found here.
In the meantime, here's the official music video. Watch how Ozzy really stretches himself as an thespian by acting so uncharacteristically crazy.

2. KISS / Almost Human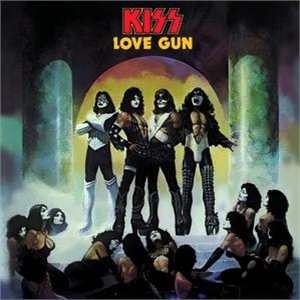 One of the forgotten KISS songs of the 1970s, this was always one of my favourites off 1977's Love Gun.  (You might think their 1982 song "Creatures of the Night" would be more appropriate, but it's much less specific; in this one the narrator offers, "The moon is out, I think I'm gonna change…"
And With Gene Simmons singing, it becomes a none-too-thinly veiled sexual metaphor as the moonlight takes effect and the beast seeks its prey. As Gene sings:
I'm very hungry, and you're what I'm dreaming of

I've got to have you baby, baby, baby, so hungry for your love…
OK, maybe there's no veil at all there.  Still a good song.

3. Metallica / Of Wolf and Man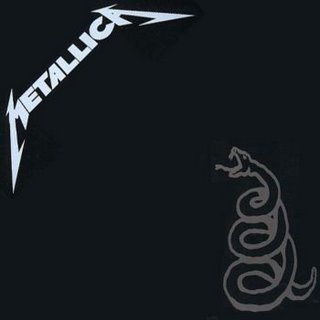 I keep wanting to like this song, and as much as I thought it was cool when it came out in 1991, it somehow doesn't make the idea of being a werewolf seem awesome, or tragic, or even that frightening.  It just sounds like a tiresome obligation to the natural world.
Which is surprising, because as a longtime Metallica fan I knew they could nail awesome ("Disposable Heroes"), tragic ("Fade to Black"), and frightening ("One") better than any dozen other metal bands. And I liked most of the other tracks on the so-called "Black" album a lot.  But this one, despite some great riffs… somehow leaves me cold.
4. Warren Zevon / Werewolves of London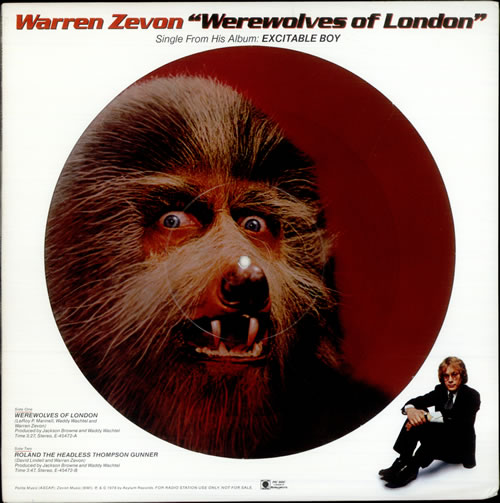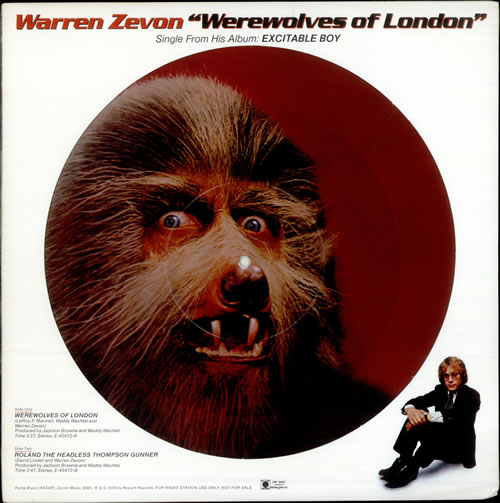 I actually only heard of this one a few weeks ago, when asking the ever-reliable tweeps on Twitter what their favourite werewolf songs were.  This one has a great '70s rock piano vibe going, and I suspect it's the first song many people over 40 think of when you say "werewolf song."

5. Motörhead / Snaggletooth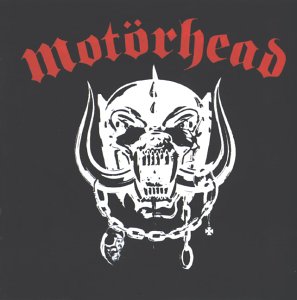 This is an iffy one. I love the way the drumbeat at the outset just kicks into gear and jumpstarts the song, which is as toe-tapping as heavy metal ever gets. No, I'm not kidding, and yes, this is a really heavy song, as is everything sung by Lemmy Kilmister.
Why do I hesitate to include it in this list?  Mostly because I have no idea what it's about (though it may refer to the band's logo/mascot), and it's been one of my favourite songs for more than 20 years. That says something about my intelligence or taste in music, and I'm sure it's not favourable.
At any rate, the main reason I include it are for the following lines:
So now you know my name, I guess you realize

Don't try to fight babe, I got you hypnotized

And sometime late tonight you'll hear the werewolf call

Gonna be old Snaggletooth gotcha by the balls!
6. Barry Dransfield / The Werewolf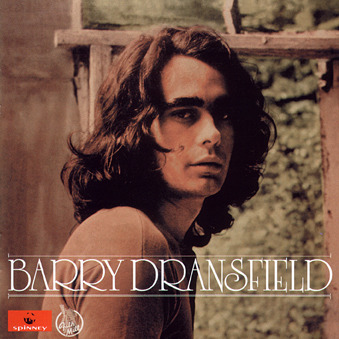 This one comes at the recommendation of Andrew Quinton from Werewolf News. (If you aren't visiting that site every Wednesday as well, click on over there, will you? And then come back.)
It takes a great singer to make an a capella intro work, and I have to say Barry Dransfield sets up the introspective tone of the song beautifully.
It's definitely of the "tragic werewolf" variety, in which the beast devours the maiden he loves.
For the werewolf, the werewolf

Please have sympathy

For the werewolf, he is someone

So much like you and me
Dransfield is something of a folk music legend, in part because his solo albums (he also performed and recorded with his brother Robin) have been hard to find. According to Andy Whitman, Dranfield's self-titled solo debut was the rarest folk album, especially on vinyl. However, if you just want to hear the music, you can find plenty of his recordings on iTunes.
The same song was also given a moody, haunting interpretation by Cat Power, but I think I prefer Dransfield's version.

7. The Misfits / Wolfsblood
Have you got a minute? Because that's all this song by The Misfits is going to take. Recommended to me by my good friend and musician Kori Miyanishi, who was always more hardcore than me. This one reminds me a bit of Motörhead's tune (above) but less radio-friendly.

8. Duran Duran / Hungry Like the Wolf
No. Just no.
9. Michael Jackson / Thriller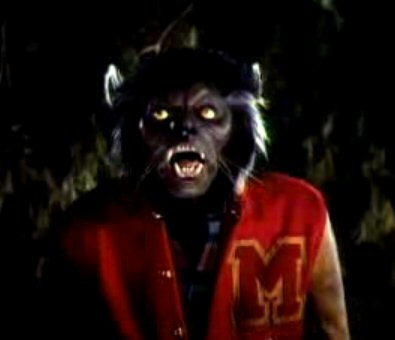 To be fair, the video not only featured Jackson turning into a werewolf in the movie-within-the-minimovie, but was also directed by John Landis, the man who gave us An American Werewolf in London (see Ozzy, above), whose prostheitcs and makeup man on that movie Rick Baker also worked on Thriller. And Like Ozzy's Bark at the Moon, it was released in December 1983.
But still… not really a werewolf song.  Too vague! It's more about zombies, judging from the amount of screen time they get in it. Also… is Michael Jackson actually turning into a werecat at the beginning of the video? That still howls like a wolf? That's original, I guess.
I'm not going to embed the video because its almost 11 frickin' minutes long, but you can watch it here.
10. Howlin' Wolf / Spoonful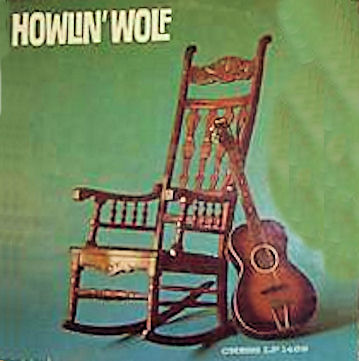 Suggested to me by my coworker Al Small, this is one for all you True Blood fans. In Season Three, during the first scene in the werewolf bar, this is the song playing. I'm not a fan of the way werewolves are portrayed on this show — typically stupid, mindlessly evil, shallow — oh, except for the hunky main werewolf character who's conflicted and sensitive and eye candy.
However, for a genre show, and in fact for a TV show of any kind, True Blood has one of the best soundtracks I've ever heard. So eclectic, lots of great stuff you may never have heard before, and always appropriate to the mood of the show. So do yourself a favour and enjoy Howlin' Wolf's gritty, growling blues.

11. Wolfmother / New Moon Rising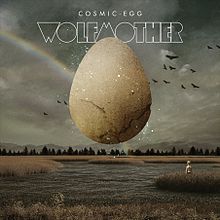 How could I refuse a band named Wolfmother? Actually, what I find most remarkable about them is that they continued to make music I liked after two-thirds of the band quit after their eponym0us debut album came out. This one is not my favourite from their second album Cosmic Egg (that would be "10,000 Feet") but not only is this one on Nadine Holmes' excellent Spotify werewolf playlist, it's a wolf-named band singing about the moon. They had me at the fast, fuzzy chords.

Now it's your turn
Those are all the songs I was able to pull together and would recommend to others (I admit, I only included Duran Duran to deny them), but I'm open to your favourites. Leave a comment, and don't forget to vote in the poll.
UPDATE: Sorry for any broken links due to Youtube yanking content; I am fixing them as I become aware of the problems. And the videos are all the wrong size since I migrated to this webhosting — I'll fix those too.
UPDATE II: The videos have been fixed and remaining dead links removed. Thanks for your patience.
Related articles