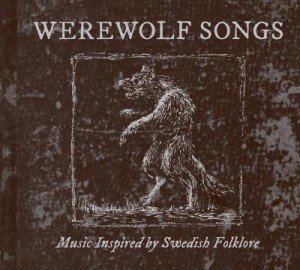 Given the subtle, moody atmosphere created on the new CD by Swedish publisher Malört förlag, Werewolf Songs, weaving in dark emotions and barely-suppressed savagery, it's fair to say the Swedish werewolf's bite is nastier than its bark.
The collection was released as a companion piece to by Malört förlag's new reissue of ethnologist Ella Odstedt's Varulven i svensk folktradition (The Werewolf in Swedish Folklore) which was first published in 1943. The songs on the CD, by musicians from Sweden, Finland, Belgium, England, and the United States, are based on the book.

While only one is a traditional folksong ("Varulven," given a new melody by Korp), all evoke an eerie, menacing spirit of the monster that lurks in the woods — and within each of us.
Sedayne and Rapunzel's "Winter Werewolf" uses the counterpoint of male and female lead vocals backed by hardanger to conjure the lonely guilt of a person who mourns his lycanthropic savagery.
Birch Book's "Werewolf's Eyes" is a melancholy ballad in the same vein as "The Werewolf," as made popular by Barry Dransfield.
Hexvessel's "Vainolainen," on the other hand, led by ethereal vocals over acoustic guitar, takes on a growing momentum, as the shapeshifter contemplates the divide between the civilized and the wild, inviting comparisons to Led Zeppelin's "Battle of Evermore."
Even on faster-paced songs such as Tondurakar's "Visa om Karolinen Anders Gråben," the sound is still "old" — in this case, referring to a Carolean soldier (one of those who served under King Charles XI and later Charles XII in Sweden's conflicts with Russia). As the album notes explain, gråben is a Swedish euphemism for wolf; and  in this song the soldier is actually a werewolf.
And closing off the album is another highlight, "Varulvslaten," by Hedningarna, who lend their inimitable humorous-but-frightening style to a frenetic, disjointed instrumental that creates the feel of transforming and running wild.
If you're looking for brutal snarl/stomp/slash werewolf music, this isn't it. But if you want a chilling glimpse of a full-moon fear as old as mankind, this Swedish collection of werewolf songs is a great place to start.
Werewolf Songs: Music  Inspired by Swedish Folklore
Various artists
Malört förlag, 2012
Five stars out of five
UPDATE: If your Swedish is good, you can read an article on the book the songs were inspired by in Aftonbladet.