Note: this review of Iron Maiden's 2002 greatest hits collection was written before the band's reemergence as a touring dynamo in the early 21st century (at least in North America; Brazil always seemed to know they put on a great show, as you can hear on Maiden's live album Rock in Rio.)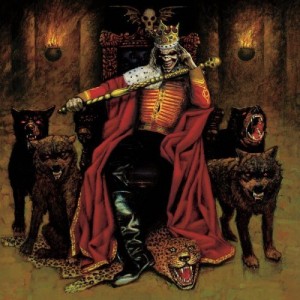 What? Don't these guys know they're has-beens? Apparently not; or maybe Bruce Dickinson and crew are old enough to know that what goes around, comes around. A greatest hits album for a band never big on hit singles may seem incongruous, but given the road-testing of their material over the years, Iron Maiden and their cheerfully macabre mascot Eddie have put together an astute collection.

They don't skimp on any "era," collecting both golden oldies like "Number of the Beast" and recent numbers such as "The Wicker Man." This is a band that has aged well, even if its genre has not. They're at their disturbing best on tracks like "Bring Your Daughter to the Slaughter," while the mid-'90s "Man on the Edge" boasts lyrics reminiscent of The Police.
A good collection for the new fan who wonders what all their posters meant.
Iron Maiden
Edward the Great
(EMI)
Three and a half stars out of five
Originally published in Uptown Magazine, November 7, 2002
UPDATE: Fixed broken link to the Rock in Rio review. Sorry about that, everyone!
Related articles