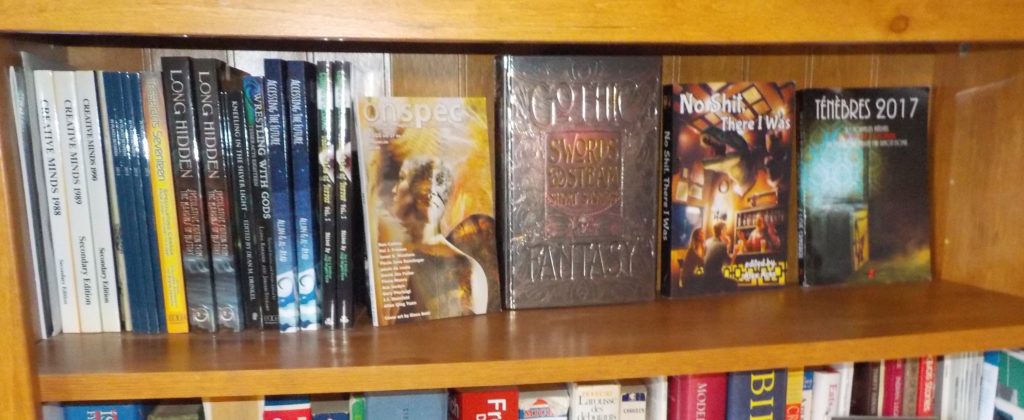 Weelllll it's been a long time since I blogged about this, mainly because I've barely posted about the books on my bookshelf about stories I have out there in the world. Also because I've been preoccupied with longer-term projects for the last couple of years! So if the new stories published have been fewer and farther between, that makes it a bit silly to write a blog post showing a Bookshelf of Things I Have Stories In with only one new addition.
Also, for longtime readers of this blog (waves): you may have noticed the site looks a little different. I've cleaned it up, changed to a different WordPress theme, and started getting some new posts ready. I think it looks better. I hope you do too.
Anyway, here's what's new (ish).
In September 2016, my short story "Sisters," about two women hunting trolls in late-14th century Norway, was published in the Swords & Steam Short Stories (Gothic Fantasy) anthology from Flame Tree Publishing. This, I think, was my first publication in hardcover. Woot! It barely fits on my bookshelf. Maybe I'll have to replace this one sooner than I thought…
In October 2016, I achieved a goal I've been after for many years: I finally got a story published in On Spec, one of Canada's top and longest-running speculative fiction magazines. That story was "Not Fit to Print," a werewolf noir set in Winnipeg in the 1960s. It was lovely to work with On Spec editors Eileen Bell and Diane Walton on that story and I'm pleased with the way it turned out. That one also got a nice review at Tangent.
In early 2017, my story "I'm Not Taking This Phantom Crap Anymore" appeared in the anthology No Shit, There I Was. The writing prompt alone was enough to make me want to submit something — every story had to start with "No shit, there I was." Even more marvellous is what all the other authors in this collection, edited by Alex Acks, did with that. My story is a mystery set in the cottage country of the Canadian Shield, about a clairvoyant carpenter who knits.
In June 2017, I reached another career benchmark, with a story published in translation. France's Ténèbres, is an annual anthology of speculative, sometimes dark fiction. I first heard of it thanks to Canadian author Doug Smith. I've occasionally written a story that I hoped would fit editor Benoît Domis's taste for the collection. However, it was "The Wolves of Vimy," originally published in English in the First World War anthology Kneeling in the Silver Light, that found a home at Ténèbres. It was an honour to have it selected and to work with translator Sabine Sur on the finer points of making the story work in French. (All credit to her; there were questions of context that she raised with me, and I was more than happy with her solutions in the translation.)
So for this bookshelf roundup, I'm afraid that's it, though I am thrilled to have work in each of these titles. I have a couple of other writing projects in the works, but can't talk about them yet. Maybe they'll appear the next time I update my bookshelf…